Scam posts woo online users with fake investment offer in the Philippines' Ayala Corporation
A link to a spurious website is circulating in Facebook posts in the Philippines alongside a hoax invitation to invest in a major business conglomerate. A representative for the firm Ayala Corporation warned that the link was a scam, while the company said in a statement that stocks can only be purchased through licensed stockbrokers and not through websites or third-party apps.
"If I were you, I'd switch to Ayala Corporation," reads a Tagalog-language Facebook post shared on January 11 in a group called "Philippines Investment Platform".
Ayala Corporation is a major business conglomerate working in various industries, including power, water, real estate and telecommunications.
The post encourages Facebook users to click a link to "invest only 370 pesos (US$ 6.77)" and assures them that the scheme is "SEC-registered".
The link leads to a website called Oyala, which features a logo similar to that of Ayala Corporation.
"SEC" refers to the Philippine Securities and Exchange Commission, which issues warnings against companies that solicit investments illegally or engage in Ponzi schemes.
The post appears to show screenshots of cash transactions and an SEC-issued "certificate of permit to offer securities for sale".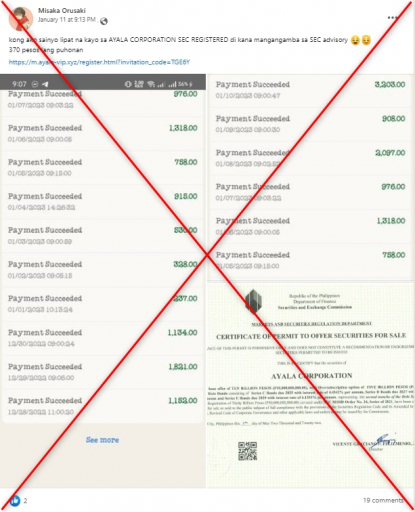 Screenshot of false post taken on January 17, 2022
The claim was also shared on other Facebook groups about investing here, here and here.
Another post promotes a similar link, which it advertises as an "Ayala app", and shows screenshots of a supposed initial investment of 370 pesos (US$ 6.77) growing to 1,605 pesos (US$ 29.40) in 55 days.
Some Facebook users appeared to express interest in investing through the links advertised.
"I have already registered. Please include me in the group chat," one comment read.
"How do I join?" read another.
A representative for Ayala Corporation said the firm did not endorse the scheme circulating on Facebook.
Investment scam
Spokeswoman Yla Alcantara told AFP on January 18: "This so-called 'Ayala Investment App' is a scam".
She shared a statement with AFP that the company posted on Facebook which said Ayala Corporation did not have "an app or a website dedicated for investments".
"As a listed company in the Philippine Stock Exchange, Ayala Corporation stocks may only be purchased via licensed stockbrokers accredited by the PSE," it said.
"'Investments' in the Corporation or any of our business units and subsidiaries are not done through third-party apps and websites".
Ayala Corporation has reportedly announced plans to seek legal action against the promoters of the fake investment scheme.
According to the conglomerate's verified Facebook page, the URL of its official website is ayala.com.ph. When clicked, it leads to ayala.com.
Below is a screenshot comparison of the imposter website (left) and Ayala Corporation's official website (right):
Keyword searches found the SEC-issued certificate in the posts was taken from Ayala Corporations's website, referring to an offering to sell fixed-rate bonds in May 2022.