Altered video shared alongside claim it shows India's Rahul Gandhi listening to explicit song
An altered video of Indian opposition leader Rahul Gandhi at a concert has been shared thousands of times in social media posts that claim it shows him watching a performance of a sexually explicit song. However, the original clip shows a different song, Hindi-language Bollywood hit "Right Here Right Now", which does not feature explicit lyrics.
The video was shared in a tweet on January 6 by Wasim Khan, one of the leaders of India's ruling Bharatiya Janata Party (BJP).
The video, which has more than 340,000 views, appears to show the leader of the opposition Congress party Rahul Gandhi in the front row of a theatre watching a singer perform a sexually explicit song from the 2017 Bhojpuri-language film "Satya".
The sarcastic Hindi-language tweet, which includes an excerpt of the lyrics, reads: "The gentleman listening to the civilized song, 'first he lifted my veil and then made me lie on his belly'."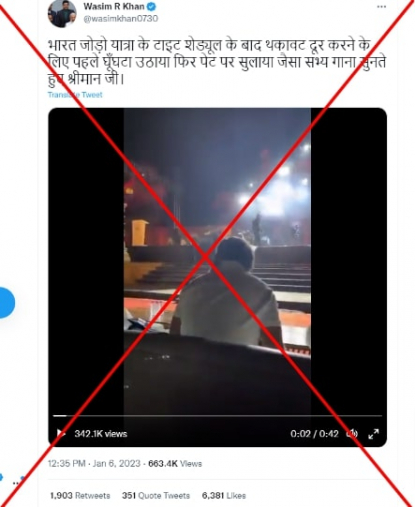 Screenshot of the misleading tweet, taken January 12, 2023.
"The gentleman" is a reference to Gandhi, who attended a concert at the Albert Hall in the western city of Jaipur on December 16 to mark 100 days of his Unite India March (Bharat Jodo Yatra).
Gandhi said his pan-India march, which started in September, aimed to highlight rampant unemployment, soaring inflation and growing polarisation between majority Hindus and religious minorities such as Muslims.
The same video was shared in similar posts on Facebook here and here.
Edited clip
A keyword search on Twitter found a longer version of the video -- but featuring different audio -- in a tweet posted on December 18 by Manoj Sharma, the Rajasthan bureau chief of Hindi-language daily Dainik Bhaskar.
The Hindi-language tweet reads: "Bharat Jodo Yatra: Albert Hall, Sunidhi Chauhan Night."
Sunidhi Chauhan is a Bollywood singer.

In the video, Chauhan is heard performing the song "Right Here Right Now", which features in the 2005 Bollywood film "Bluffmaster".
The song does not feature sexually explicit lyrics.
Below is a screenshot comparison of the altered video (left) and the original video posted by Sharma (right):
A comparison of the screenshots of the viral video (left) and original video posted by Sharma (right).
The Unite India March tweeted a poster promoting Chauhan's performance at the concert.
A livestream of the concern broadcast by First India News shows that the explicit song was not performed at any point in the show.
The channel also shared a video of Gandhi joining Chauhan on stage.
Other images of Gandhi at the concert were published by stock photo site Alamy and the Navbharat Times newspaper.
AFP has debunked various false claims targeting Gandhi, including here and here.