Posts share fake mugshot of Georgia Senator Raphael Warnock
As the state of Georgia prepares for a US Senate runoff election, social media posts are sharing an image that purportedly shows Raphael Warnock's mugshot. But a forensic analysis from a misinformation tracking firm indicates the photo of the Democratic incumbent is altered.
"GA finest the Reverend Warnock," says a November 11, 2022 tweet with more than 6,000 retweets.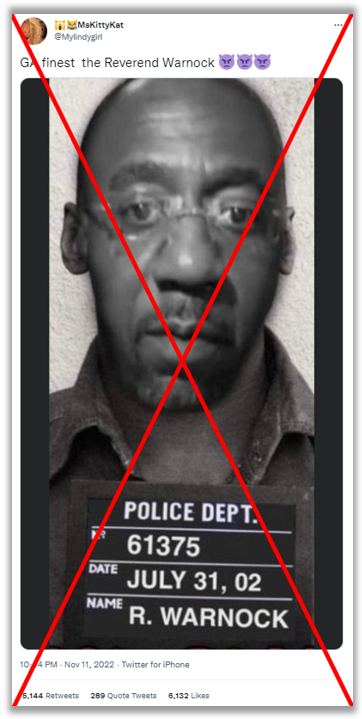 Screenshot of a tweet taken November 17, 2022
The post is one of dozens surfaced to AFP by VineSight, a firm that uses artificial intelligence to detect potential online misinformation. Many are direct replies to tweets by Warnock, while other posts shared the image Facebook.
Warnock, Georgia's incumbent Democratic US senator, will face off against Republican Herschel Walker in a runoff election on December 6, 2022. Warnock received a plurality of votes in the November 8 midterm elections but fell short of the majority needed to avoid a second round.
Warnock has been arrested before, but the mugshot shared online is a digital fabrication.
Photo is manipulated
To determine whether the image shared online is authentic, VineSight conducted an Error Level Analysis (ELA). The process involves identifying areas within an image file that have different compression levels.
"With JPEG images, the entire picture should be at roughly the same level. If a section of the image is at a significantly different error level, then it likely indicates a digital modification," says FotoForensics, an image analysis tool, on its website.
Nir Hauser, chief technology officer and co-founder of VineSight, told AFP the outline of Warnock's head in the photo shared online "shows a clear manipulation (and is visibly blurred in the original image)."
He added: "The text in the image also shows manipulation."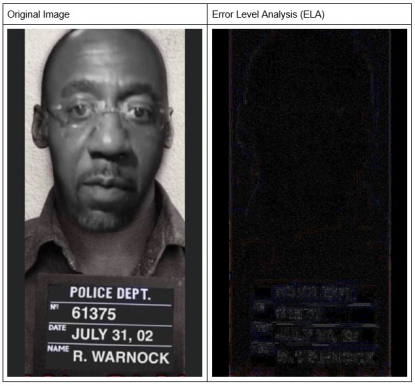 Screenshot of an Error Level Analysis conducted by VineSight
The photo contains several other clues that indicate the photo is altered.
A non-descript arrest placard says "Police Dept." without specifying a jurisdiction. And the appearance of Warnock's head does not match the rest of the photo.
A reverse image search using PimEyes indicates the image shared online appears to stem from an interview Warnock gave to 11 Alive, a TV news station in Atlanta, about his 2017 arrest at the US Capitol.
Warnock's arrests
Warnock was arrested in 2002, 2014 and 2017. But AFP could find no publicly available mugshots of Warnock.
The image shared online is dated July 31, 2002, when Warnock was detained in Maryland for allegedly interfering with a child abuse investigation at a church camp where he was a pastor. He asked investigators to not conduct interviews with camp counselors until an attorney was present, according to a police report.
However, the charges were eventually dropped -- and the deputy state's attorney general in Carroll County later said the arrest was due to "miscommunication," The Baltimore Sun reported.
When the nature of Warnock's arrest was scrutinized during his 2020 bid for US Senate, campaign spokesperson Terrence Clark told The Atlanta Journal-Constitution it was a "false attack" taken out of context.
"Law enforcement officials later apologized and praised him for his help in this investigation," Clark told the newspaper.
Warnock has been arrested two other times -- both for protesting health care policy.
Warnock was detained at the Georgia Capitol in 2014 while protesting the refusal of state Republicans to expand Medicaid. And in 2017, he and other religious leaders were arrested at the US Capitol after praying against efforts to repeal the Affordable Care Act.
AFP reached out to Warnock's campaign and Senate office for comment, but a response was not forthcoming.
AFP has fact-checked other false and misleading claims about the midterm elections here.