Malaysian posts share misleading claim about hand sanitisation rule for upcoming elections
Social media users in Malaysia have shared a misleading claim that the country has mandated that voters must sanitise their hands before voting in the upcoming general elections on November 19, 2022. However, as of November 16, government guidelines show hand sanitisation is "advised" but "not required" prior to casting votes in the approaching elections.
The claim was shared here on Facebook on November 9, 2022.
"A new requirement this election. They'll be asking you to sanitize ur hands after you've dipped ur finger in the ink (a KKM requirement). Pse remember not to sanitize the ink finger, as the alcohol will dissolve the ink & cause it to smudge even before you vote," the claim reads in part.
"KKM" is an abbreviation for "Kementerian Kesihatan Malaysia," or the Malaysian Ministry of Health.
Before casting their ballots, voters in Malaysia are required to mark their fingers with indelible ink, which is used to prevent duplicate voters and identity theft by preventing previously marked voters from casting a second ballot.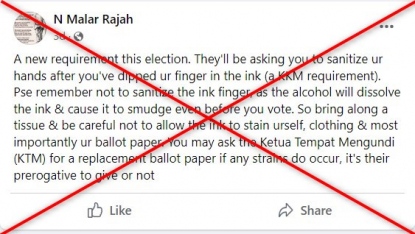 Screenshot of the misleading post, taken on November 12, 2022
Although elections were not scheduled until September 2023, Malaysian Prime Minister Ismail Sabri dissolved parliament on October 10, 2022 to allow for a snap election on November 19, 2022.
The last Malaysian elections were held in 2018, two years before the Covid-19 pandemic began.
The claim began to circulate online after the country experienced an increase in the number of new Covid-19 cases in October 2022.
A similar claim was also shared on Facebook here, here and here.
However, as of November 16, 2022, government guidelines show hand sanitisation is "advised" but "not required" prior to casting votes in the approaching elections.
'Not required'
In response to misleading posts, the Election Commission of Malaysia (EC) published a statement to dismiss the claim on November 10, 2022.
"Voters are not required to use hand sanitiser before casting their votes on the election day," its statement reads in part.
Separately, on its official Facebook page, the EC listed 10 steps voters must follow when casting ballots in the upcoming elections, but made no mention of requiring hand sanitisation during the voting process.
However, Malaysia's Ministry of Health still advises voters to make sure to keep their hands clean when voting.
In its guidelines, dubbed "advice to general election voters", published on November 13, 2022, the ministry said: "Make sure hands are cleaned with hand sanitiser at the designated place when voting."
The ministry's guidelines also made no mention of making hand sanitisation a new requirement for the forthcoming elections.
The claim has been debunked by several local media outlets as seen here and here.