Flooded school video from Houston in 2019, not Hurricane Ian
A video viewed millions of times on social media claims to show children in a flooding school as Hurricane Ian battered the US state of Florida. This is false; the clip depicts elementary school students in Houston, Texas during Tropical Storm Imelda in 2019, and most Florida school districts were closed during Ian.
"Florida schools was still open during the start of the hurricane," says text over a version of the video shared on platforms such as Twitter, TikTok and Instagram. "Florida schools open on Tuesday (September 27)."
The footage shows children walking single-file across a string of benches while water pools on the ground beneath them.
Screenshot from TikTok taken October 3, 2022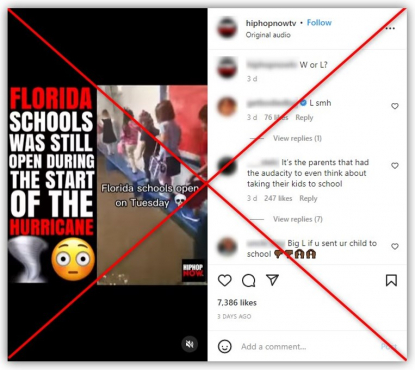 Screenshot from Instagram taken October 3, 2022
One TikTok post sharing the clip in the aftermath of Hurricane Ian gained more than 3.2 million views. Several commenters criticized Florida schools for allegedly staying open and criticized parents who supposedly sent their children to class.
"Ngl Florida different," says a tweet sharing an iteration of the clip with nearly one million views.
Screenshot from Twitter taken September 30, 2022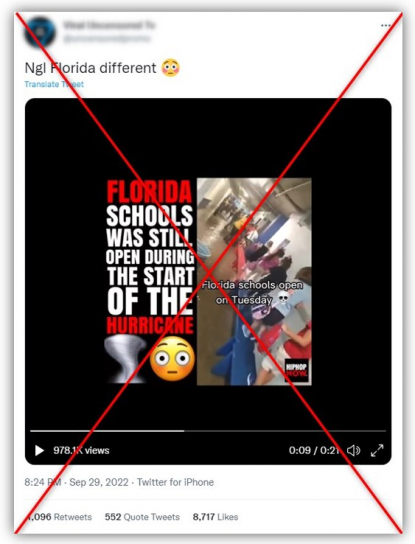 Screenshot from Twitter taken October 3, 2022
Hurricane Ian, a powerful Category 4 storm, made landfall near Cayo Costa, Florida on September 28, 2022, devastating some parts of the state's southwest coast before whirling toward South Carolina.
But the video shared online has been misrepresented; it shows the impact of a storm that hit a different US state three years earlier.
Video from Houston in 2019
Reverse image searches revealed the footage was captured as Tropical Storm Imelda blew through Houston in September 2019.
Local and national news outlets reported the incident took place at Durham Elementary School, which teaches children in prekindergarten through fifth grade.
The teacher who filmed the video spoke to Storyful at the time, noting that another teacher engineered the makeshift bridge so children would not have to trudge through the rainwater that flooded the walkway.
AFP sent inquiries to Durham Elementary School and the Houston Independent School District.
Florida school closures
Fifty-nine of Florida's public school districts closed for at least one day as Hurricane Ian rolled through, according to Governor Ron DeSantis' office and the Florida Department of Education, which kept an updated list of closures. Most did so for multiple days.
The shutdowns included five of the 10 largest public school districts in the US: Miami-Dade, Broward, Hillsborough, Orange and Palm Beach counties. The districts that stayed open during the storm were primarily located in the northwest region of Florida known as the panhandle.
"These claims are absolutely not true," said Cassie Palelis, press secretary for the Florida Department of Education, of the social media posts. "Many school districts throughout Florida closed well in advance of Hurricane Ian's landfall to allow families time to prepare and open as shelters for the community."
Palelis said 16 school districts were closed September 27, the Tuesday mentioned in the video shared online. Fifty-two school districts were closed September 28, Palelis said, and 58 were closed September 29 -- the day after Hurricane Ian's landfall.
AFP has debunked other misinformation about Hurricane Ian here.