Video shows a storm over Perth, Australia -- not a downpour in South Korea in 2022
After record-breaking downpours caused flooding in several parts of South Korea in August 2022, a video was viewed thousands of times on YouTube and in Facebook posts that claimed it showed the coastal city of Incheon being drenched by huge rain clouds. The video, however, has been shared in a false context. It has circulated since February 2020, and shows a time-lapse of a storm front as it rolled over the Australian city of Perth.
"Heavy rain clouds in Incheon seen in real-time," reads the Korean-language caption of this video posted on YouTube on August 10, 2022.
The 14-second video, which has been viewed over 14,000 times, appears to show massive rain clouds dumping rain over a large area.
Screenshot of the misleading YouTube video, captured on August 17, 2022
The claim circulated online after South Korea experienced its heaviest downpour in 80 years on August 8, leaving subway stations and major roads flooded in the capital Seoul.
At least 14 people were killed and six others were reported missing, according to local media reports here and here.
A link to the misleading video was shared on Facebook here, while GIFs using the same footage were shared here and here alongside the claim that it showed rain in Incheon.
However, the video does not show a downpour in Incheon.
Storm in Perth, Australia
A reverse image search on Google led to a Facebook post by Kane Artie, an Australia-based landscape photographer, from February 25, 2020.
Below is a screenshot comparison of the video shared alongside the misleading claim on YouTube (left) and the corresponding video published by Kane Artie on Facebook (right), with matching features highlighted by AFP in red: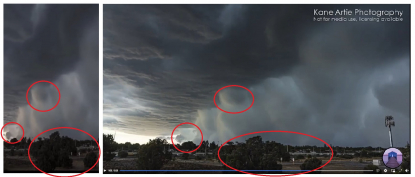 A screenshot comparison of the video shared alongside the misleading claim on YouTube (left) and the corresponding video published by Kane Artie on Facebook (right)
The video's caption reads: "Well this afternoons front that rolled in was something else!
"I made a last minute dash down the road to the viewing area at the Perth Airport as I knew I would have a nice open area to shoot. So glad I did.
"I got absolutely drenched running back down the ramp, and nearly got blown over with the gusts that came through. I had to hang on to the fence to stay on my feet. Was it worth it..... Hell yes. Media licensing available via Severe Weather Australia."
This description, coupled with features in the video, enabled AFP to geolocate where the video was shot to a public viewing area at Perth International Airport.
Daniel Shaw, the national news director of Severe Weather Australia -- which holds the video's publishing rights -- told AFP it "was captured on 25th Feb 2020 by our contributor Kane Artie in Perth, Western Australia".
Perth was hit by a severe thunderstorm accompanied by heavy rain, lightning and strong winds on February 25, 2020, according to Australian news reports from the time here, here and here.
The same video was also published alongside other images in this report on the MailOnline, the website of the Daily Mail newspaper, and here on the website of 96FM, a Perth-based commercial radio station.
The Weather Channel, a pay television channel based in the United States, also analysed the footage in a video from August 7, 2020. It states the video is from Perth, Australia and was filmed on February 25, 2020.