Video shared with false claim it shows 'Hindu indoctrination in Muslim-majority Bangladesh'
A video has been viewed tens of thousands of times on Facebook alongside a claim it shows students in Muslim-majority Bangladesh being "indoctrinated" with Hindu values. This is false: the video was filmed at an Islamic school in neighbouring Hindu-majority India -- not in Bangladesh. The students were chanting a song about the world's major religions, which the school told AFP is about religious tolerance.
The clip was viewed over 25,000 times after it was shared on July 28.
The post's Bengali-language caption translates to English in part as: "In a 90 percent Muslim country, schools and madrassas have been indoctrinated with Hindutva."
Madrassas are Muslim educational institutions, while Hindutva refers to hardline Hindu ideology.
Bangladesh's population is more than 90 percent Muslim, according to a recent census.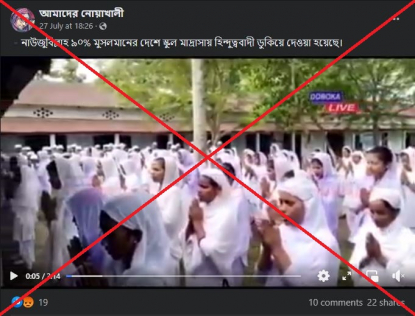 The same video was shared alongside a similar claim here and here.
However, the claim is false.
Indian school
The video includes the logo "DOBOKA LIVE". A Google keyword search found it posted on June 4, 2022 on a Facebook page with the same name.
Doboka is a town in India's northeastern Assam state.
The Facebook post's caption reads: "A scene from the prayer meeting of Islampur Block Senior Madrassa".
Below is a screenshot comparison of the video in the false posts (left) and the video from DOBOKA LIVE (right):
The school building shown in the video corresponds with an image of the Islampur Block Senior Madrassa geotagged in Assam's Lakhimpur district on Google Maps.
Below is a screenshot comparison of the video (left) and the image on Google Maps (right):
Misrepresented footage
An Assamese-speaking AFP journalist analysed the video and found the prayer heard in the clip translates to English as: "You are the most merciful, soul of the world. You are Allah, you are Jesus, you are Bhagvan."
"Bhagvan" is an epithet within Indian religions -- including Hinduism -- for figures of religious worship.
In response to the false posts, Abdul Aziz, head of the Islampur Block Senior Madrassa, told AFP: "It's a prayer song comprising the names of the God in three major religions. It's not about Hinduism (Hindutva), rather than about religious tolerance."