Old photo misleadingly linked to election of Sri Lankan President Ranil Wickremesinghe
As Sri Lanka elected its new President Ranil Wickremesinghe in July, a photo was shared hundreds of times on Facebook alongside a claim that it shows one of his close associates rallying support for his election by meeting with a controversial monk. Wickremesinghe is known for political manoeuvring that has seen him outwit opponents to ascend to the presidency in the island nation. But the photo predates his election by at least four years. The Sri Lankan journalist who took the photo told AFP it shows an unrelated meeting held in November 2017 after attacks on Muslim minorities in a southern Sri Lankan village.
The photo was shared on Facebook on July 19, 2022.
It was overlaid with Sinhala-language text that claims it shows Wajira Abeywardana -- chair of Wickremesinghe's party -- seeking support for the latter's election as president.
The photo shows what appears to be a meeting between Abeywardana and Galagoda Aththe Gnanasara, a Sri Lankan monk who has long been accused of instigating hate crimes against minority Muslims in the Buddhist-majority country.
The photo's text overlay translates in part as: "Motive is to win over the votes of SLPP parliamentarians in favour of Ranil."
Ranil Wickremesinghe, a six-time former prime minister, is a veteran political operator regarded as a shrewd navigator of the country's internecine power networks, AFP reported.
He was elected president with the backing of the Sri Lanka Podujana Peramuna (SLPP) party of ousted leader Gotabaya Rajapaksa, who fled abroad and then resigned after protesters overran his palace.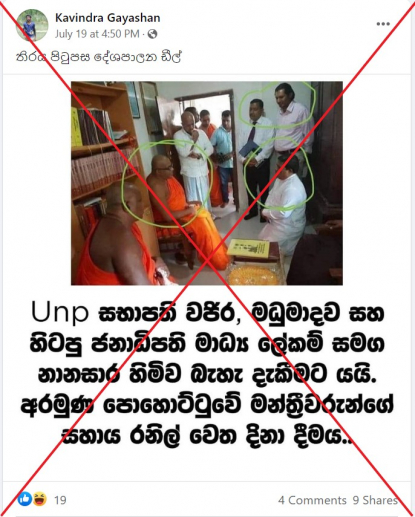 Screenshot of the misleading Facebook post captured on July 26, 2022
The same photo was shared over 800 times alongside a similar claim on Facebook here and here.
Comments from some social media users indicated they believed the photo was recent.
One wrote, "Shameless President. Gnanasara is somehow at the center of all the underhand dealings."
Another said, "They are all friends behind the scenes. These parliamentarians shed crocodile tears for Muslims outside."
However, keyword searches on Google found the photo had been shared in a misleading context.
Old meeting
A similar photo but without the text overlay was posted on Facebook by Sri Lankan journalist Sajeewa Wijeweera on November 27, 2017.
In a lengthy post, Wijeweera said the photo shows a meeting between Abeywardana and Gnanasara after a mob targeted Muslim minorities in a southern Sri Lankan village.
The attacks were reported by Al Jazeera on November 24, 2017.
Wijeweera wrote in part: "Minister Abeywardana spoke to Gnanasara there for a few minutes and explained to him that a tussle between a few villagers has now taken on a racist angle and that [Gnanasara's] assistance was needed in that regard."
Below is a screenshot comparison of the photo in one of the misleading posts (left) and the photo from Wijeweera's 2017 post (right): 
Screenshot comparison between the misleading posts' image (L) and the post from 2017 (R):
Responding to the misleading posts, Wijeweera told AFP he took the photo in November 2017. 
"I decided to publish that post because I was at the scene, alongside my wife who is also a journalist, to cover the events that transpired in that temple that afternoon," he told AFP.
"I wanted to clarify and clear the misinterpretations because the photo was being shared with a misleading context."