Free Burger King vouchers on Facebook not from company
Facebook posts claim to offer vouchers for free items at Burger King. But the online content is false; the fast-food chain told AFP the pages making the offers are not affiliated with the company, and that legitimate offers can only be found on the company's website, through its app, or in restaurants.
"To celebrate Burger King 70th anniversary, we're sending out food and drink vouchers to everyone who shares and Typed 'Done' before July 25th. Each voucher can be used at any Burger King to get 5 burger boxes and drink.!" says a July 22, 2022 Facebook post that was shared more than 12,000 times.
Screenshot of a Facebook post taken July 22, 2022
The post links to a website that asks users to register and comment "done" after answering numerous questions and submitting various personal details, steps that maximize engagement. 
But the "Burger King World" Facebook page is not affiliated with the international fast-food restaurant chain, as its page transparency shows. Facebook has labeled it as a "Fan page" and it was just created on July 21, 2022.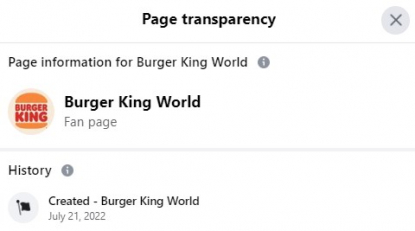 Screenshot taken on July 22, 2022 of the Page Transparency of the Burger King World Facebook page
Neither Burger King's website nor its verified Facebook page make any mention of a voucher giveaway, meaning any would be diners expecting a free meal will be disappointed.
"We can confirm this is not a Burger King promotion," a Burger King spokesperson told AFP in an email, pointing out that all legitimate promotions offered by the fast-food chain can be found on the company website, within the Burger King app, or in-restaurant. 
Facebook verifies the official pages for national and international brands and signifies them with a blue check next to the page name.
Screenshot taken on July 22, 2022 of the Burger King World Facebook page homepage
Online offers for gift cards and other giveaways are a common tactic used by scammers on social media to obtain users' personal information. AFP Fact Check has debunked similar claims here and here.