Pictures of bullet-riddled vehicles unrelated to July 2022 attack on Nigerian president's convoy
Insecurity in northern Nigeria hit close to home for the country's leader Muhammadu Buhari on July 6, 2022, when suspected terrorists ambushed members of his presidential convoy as it was travelling to his hometown of Daura. While officials confirmed the incident, no pictures were released. But at least two Facebook accounts published images of bullet-riddled vehicles, claiming they were from the scene of the attack. This is misleading: the photos show previous and unrelated incidents from other parts of the country.
"This is one of the cars in Buhari's convoy that was attacked by gunmen on the way to Daura, Katsina," reads a Hausa post published on July 6, 2022. Hausa is widely spoken in northern Nigeria where the attack on Buhari's security team took place.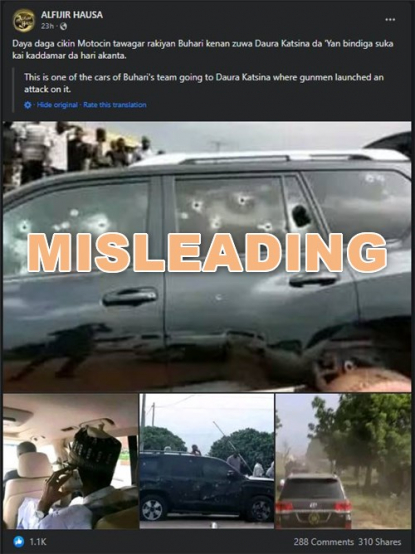 A screenshot of a misleading Facebook post, taken on July 7, 2022
A post with the same claim and similar images, but excluding a shot of Buhari talking into a mobile phone in a car, was published here on Facebook, where it has been shared more than 350 times.
Other pictures in the posts show various black SUV's riddled with bullet holes and onlookers at the scenes.
Buhari's spokesman Garba Shehu confirmed the president's security advance team was attacked in Dutsinma, about 152 kilometres from his hometown of Daura in Katsina State, northwest Nigeria, days before he was scheduled to visit the area for Eid al-Adha celebrations. 
"Two persons in the convoy are receiving treatment for the minor injuries they suffered. All the other personnel, staff and vehicles made it safely to Daura," Shehu said in a statement. 
Buhari, however, was not in the convoy, added Shehu.
Moreover, the pictures show unrelated incidents from 2014 to 2021, among them the image of Buhari talking on a cellphone, which was published in February 2018 by a Nigerian blog. 
Pictures from different events
Using reverse image searches, AFP Fact Check found one of the main images in the misleading posts was published by Nigerian online news site Premium Times on July 7, 2021, in a report about the assassination of a Nigerian official. 
A screenshot of the Premium Times article on the assassination of the Nigerian official, taken on July 15, 2022
Two other pictures (here and here) were taken in 2014 when suspected jihadists bombed Buhari's convoy in Kaduna, northwest Nigeria at a time when he was running for president. 
Screenshots showing the Premium Times articles on the 2014 attack on Buhari, taken on July 15, 2022
Finally, the picture in the bottom right of the misleading posts was shared on the official Twitter and Facebook accounts of Borno State governor Babagana Zulum in 2020. 
A screenshot of the Twitter post, taken on July 12, 2022
According to reports, the image was taken when Zulum visited people displaced by the insurgency in Nigeria's northeast and who had returned to their homes in Baga in September 2020.