Doctored newspaper headline wrongly claims Kenyan presidential candidate lied about studies in Germany
A widely circulated screenshot of a newspaper headline alleged Germany's Leipzig University had denied that Kenyan presidential candidate Raila Odinga was ever one of its students. The image was shared in multiple Facebook posts questioning his qualifications. The claim, though, is false: not only was the purported headline a fabrication but Leipzig confirmed to AFP Fact Check that Odinga attended the university from 1962 to 1964 before obtaining a degree at another nearby university.
"Leipzig University dismissed claims that Raila is their alumni. Says no records show his admission at the institution," reads a headline attributed to the leading Nation newspaper, shared as a screenshot in this Facebook post on June 16, 2022.
The post was published 11 days after Kenya's electoral body – the Independent Electoral Boundaries Commission (IEBC) – cleared Odinga for the August 9 general elections.
The screenshot looks genuine and includes a date, time stamp and the name of a "reporter".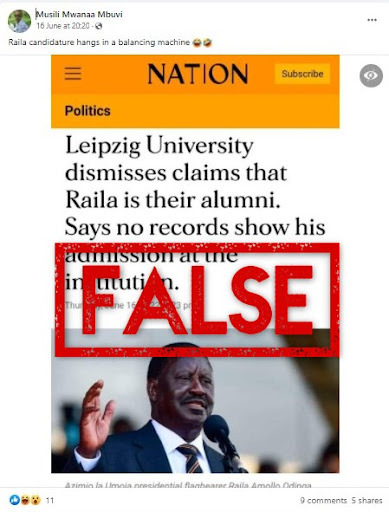 A screenshot of the false Facebook post, taken on July 4, 2022
The same claim was shared elsewhere on Facebook (see here, here and here) and Twitter.
Degree debate
Kenyan law outlines the level of academic qualifications for different elective positions. To vie for the presidency or a gubernatorial seat, a candidate must hold a degree from a university recognised in Kenya.
The claim emerged after the degree submitted to the electoral body by a Nairobi senator running for a seat was challenged (see here and here) in mid-June.
Kenya's Commission for University Education (CUE) - the agency regulating university education - said it did not recognise the degree presented by Johnson Sakaja to the electoral body.
Scrutiny then settled on Odinga's academic qualifications, with some challenging the 77-year-old, who is taking a fifth shot at the presidency, to produce a copy of his degree.
Deputy President William Ruto, Odinga's main contender who supports Sakaja, chimed in.
"I am telling you Jubilee leaders, leave alone Sakaja, he has enough certificates. If there is someone with questionable certificates, it is [Odinga]," Kenyan media quoted Ruto as saying.
Fake screenshot
A degree from Otto von Guericke University Magdeburg surfaced on social media as evidence that Odinga had attended the institution (see here, here and here).  A stamp at the bottom of the document indicated that it was translated into English by Goethe-Institut, a non-profit German cultural association. However, some online users have cast doubt on the document's authenticity. AFP Fact Check has contacted the institute for comment.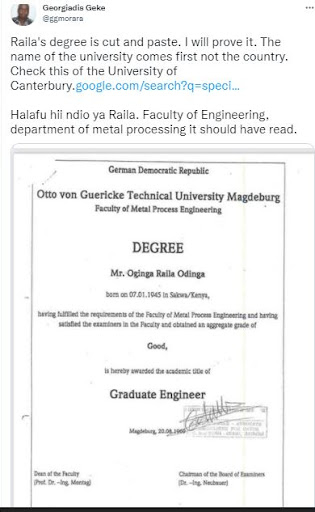 A screenshot of a tweet questioning Raila Odinga's degree certificate, taken on July 5, 2022 ( Mary KULUNDU)
Additionally, a list of 100 notable alumni of the University of Leipzig appearing on EduRank.org, a German-based website that ranks universities, caught the attention of local media as Odinga placed 41 (see here and here).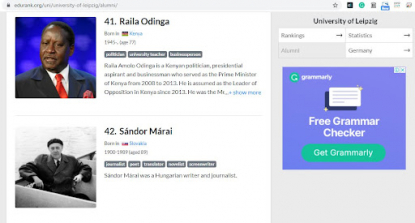 A screenshot of Edurank.org shows Raila Odinga as one of the 100 notable alumni of the University of Leipzig, taken July 5, 2022 ( Mary KULUNDU)
Shortly afterwards, the screenshot of the purported headline discrediting Odinga's qualifications from Leipzig University began making the rounds on social media.
But the Nation has rejected the image as "fake".
"Please be advised that this card doing rounds on social media is fake. Do not fall for fake news," it warned on Facebook.
A search on Nation's website also failed to show any matching results.
Leipzig Alumni official Ulrike Renker confirmed that Odinga had enrolled as a student in 1962 for language training.
"Mr Raila Odinga, born on January 7, 1945, attended the Herder Institute of the then Karl Marx University of Leipzig/KMU (today: University of Leipzig) from November 7, 1962, to November 16, 1964. At that time, the Herder Institute was a preparatory college for specialised studies. German language instruction was offered as a preparatory course for studies," Renker told AFP Fact Check in an email.
It was a requirement for Odinga to enrol in order to prepare him for further studies.
"Raila Odinga went to Magdeburg Technical University (now Otto von Guericke University Magdeburg) in 1964 after completing the preparatory course and began studying mechanical engineering," Renker said.
She added that he was unable to verify the accuracy of the list compiled on Edurank.org.
Engineering degree in 1969
The Otto von Guericke University Magdeburg said it was not in a position to authenticate the copy of the degree certificate circulating on social media because Odinga's certificate "was not in the file".
However, media relations officer Katharina Vorwerk confirmed that Odinga attended the university from 1964 to 1969 and was awarded "the academic degree of graduate engineer (Diplomingenieur)".
"Our research has shown that Mr Raila Odinga studied manufacturing engineering (Fertigungstechnik) with a specialisation in forming technology (Umformtechnik) at the former Otto von Guericke Technical University in Magdeburg (now the University of Magdeburg) from November 16, 1964, to August 20, 1969."
Vorwerk added that Odinga successfully completed his studies on August 20, 1969.
July 7, 2022 Changes pronoun from male to female for Leipzig Alumni official Ulrike Renker