Old photo falsely shared as exiled Thai PM 'at Bangkok governor's son's graduation'
Social media posts in Thailand claim to show a photo of exiled prime minister Yingluck Shinawatra attending the US graduation of the son of Bangkok's new governor Chadchart Sittipunt. The claim is false; the photo was taken years before the graduation, while a representative for Yingluck and social media posts indicate she was in Singapore at the time of the ceremony.
"Guess who attended Chadchart's son's graduation ceremony in Seattle," reads a Thai-language tweet shared on June 13.
"Is Chadchart really independent? Or did he meet up with someone to plan something? You can't hide from the people!"
The tweet, shared more than 1,000 times, shows a photo of Yingluck Shinawatra, Thailand's first woman prime minister who was ousted in a military coup in 2014. She has been living in exile since 2017.
She is posing alongside Sanpiti Sittipunt, the son of Chadchart Sittipunt, who was voted Bangkok governor in a landslide win in May. Chadchart previously served as transport minister in Yingluck's toppled government.
Screenshot of a tweet sharing the photo shared in a false context, taken on June 19, 2022
The same photo was shared in similar posts on Facebook here and here.
Some social media users appeared to believe the photo showed Yingluck attending Chadchart's son's graduation on June 11 at the University of Washington in Seattle.
"Of course she would be there, they know each other!" read one comment.
"So they're close, so what? They're not allowed to see each other? Why do people assume they would be plotting something together?" another said.
Old photo
However, the claim is false.
The URL of Chadchart's son's Facebook page is visible at the bottom of the photo.
A search of Sanpiti's Facebook page found the photo posted on February 26, 2013, more than nine years before his graduation.
Screenshot of the photo shared on Sanpithi Sittipunt's Facebook page in 2013
In a Facebook Live broadcast of the graduation ceremony posted by Chadchart, Sanpiti looks older than in the photo shared in a false context.
Below is a comparison showing Sanpiti in the old photo (left) and in the graduation video (right):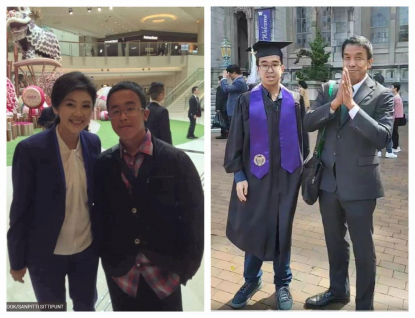 Comparison showing Sanpiti in the old image (L) and in the graduation video (R)
A representative for Yingluck said she did not attend Sanpiti Sittipunt's graduation on June 11.
"[Yingluck] did not attend Chadchart's son's graduation ceremony in Seattle. She was in Singapore from June 1 to June 13," spokesman Wim Rungwattanajinda told AFP.
On June 12, the former prime minister posted a video on TikTok showing her at the Chatterbox restaurant at the Hilton Singapore Orchard hotel.
The Thai-language TikTok reads: "When you're in #Singapore, you must eat #HainaneseChickenRice and #SingaporeanCendol #SoDelicious I don't mind gaining weight #ChatterBox."
She posted another video on June 9 in front of Taiwanese restaurant chain Din Tai Fung in Northpoint City in Singapore.