Video of woman shooting gunman filmed in Brazil in 2018, not United States
A video purportedly showing a woman shooting a gunman in the United States has circulated on multiple Chinese social media platforms following mass shootings in Texas and New York in May 2022. However, the video has been shared in a false context; it in fact shows an off-duty police officer shooting a man in Sao Paulo, Brazil in 2018.
"A failed gun attack in the United States!" reads a simplified-Chinese tweet shared on June 1.
"Looks like everyone really has to have a gun, and strike first. The United States could even set up an award for courage!"
The footage appears to show a man in a dark hoodie pointing a gun at a group of parents and children as he walks towards them, before he is shot by a woman dressed in pink.
Simplified-Chinese text superimposed over the video reads: "In the United States, everyone should have a gun and strike first to gain the upper hand."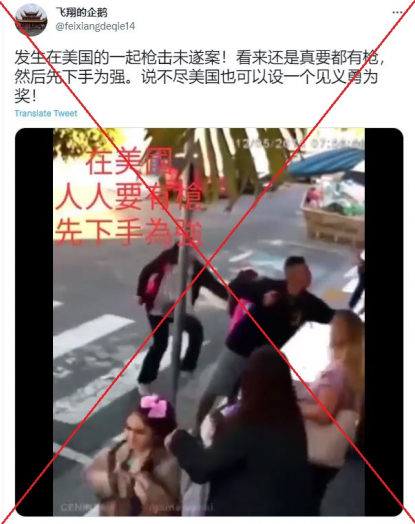 Screenshot of a tweet sharing the false claim, taken on June 16, 2022
The clip has circulated in similar posts since at least May 2020. 
But it resurfaced in June 2022 -- when it was viewed more than 20,000 times on Twitter and Douyin, the Chinese version of TikTok -- following two mass shootings in the United States.
Nineteen children and two teachers were killed by a gunman at a Texas elementary school on May 24, while a shooting at a New York supermarket days earlier on May 14 left 10 Black people dead.
However, the video has been shared in a false context. 
A Google reverse image search found a similar video published by American broadcaster ABC News on May 15, 2018.
The article was headlined: "Off-duty cop fatally shoots gunman at her kids' school."
"A (sic) off-duty police officer waiting to pick up her children at their school in Brazil shot an intruder, who later died at the hospital, officials said," ABC News reported.
The report identifies the police officer as Katia da Silva Sastre, who was elected to the Brazilian congress in October that same year.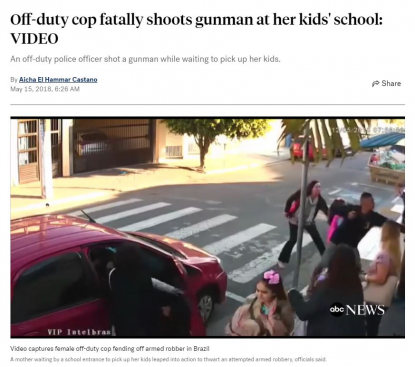 Screenshot of ABC News's article, taken on June 16, 2022
Brazilian daily newspaper Folha de S.Paulo featured a similar photo of the shooting in an article on the incident.
Sastre, then 42, shot an armed robber three times in front of the Ferreira Master private school in the Jardim dos Ipes neighbourhood, in the Brazilian financial centre of Sao Paulo on May 12, 2018, it reported.
Google Street View imagery outside the school corresponds to the scene in the video shared in the false posts.
Below are screenshot comparisons of the scene in the video shared in the false posts (left) and the location seen on Google street view (right), with similarities highlighted by AFP: 
A screenshot comparison of the video in the misleading post (left) and the Google map imagery (right), with similarities marked out by AFP.