Off-duty US Border Patrol agent did not 'eliminate' Texas shooter
Posts on Facebook claim Jacob Albarado, a US Border Patrol agent, "eliminated" the gunman who murdered 19 children and two teachers at Robb Elementary School in Uvalde, Texas. This is false; Albarado entered the school armed during the shooting to rescue his daughter and other children, but he did not shoot the gunman. 
"The lefts Hero: GEORGE FLOYD. Use your own opinion of his heroic efforts," a May 28, 2022 post on Facebook says. "OURS: Off duty border agent Jacob Albarado. With no 2nd thought entered Robb Elementary School and eliminated the active shooter."
The post shows photos of Floyd, a Black man murdered by a white police officer in Minneapolis in 2020, and Albarado, a Uvalde local. 
Screenshot of a Facebook post taken on June 1, 2022
On May 24, 2022, an 18-year-old gunman was killed after attacking Robb Elementary School, a massacre that left Uvalde in mourning and reignited debate over gun rights in the US.
But the Facebook post contains false information about the mass shooting. 
Albarado, a Border Patrol agent who was off duty on the day of the shooting, has a daughter in second grade at Robb Elementary School. His wife also teaches at the school. Both were inside during the shooting, and both survived the attack.
Albarado shared his recollection of the day's events in several interviews with the press. He said he entered the school, but he does not mention ever facing, harming or shooting the gunman.
'I pulled back'
On the morning of May 24, Albarado was with his barber when they both received messages about what was happening at Robb Elementary.
"I received a text from my wife saying that there was an active shooter," he recalled in an episode of "The Daily," a New York Times podcast.
His barber had a shotgun in his truck, he explained, so Albarado grabbed the firearm and they both rushed to the school. He then went inside the building armed.
He recalled thinking: "I need to get my wife out. I need to get my daughter out. But of course, of course I'm getting everyone else as well." He said he helped evacuate about 200 kids from different classrooms with a makeshift team of officers.
When asked on NBC's "Today" if he encountered the field officers poised outside the room where the gunman was barricaded, Albarado said: "At one point I went. I was there at the door, fixing to go in. But once again I didn't have any of my gear, it wouldn't have been a smart move for me -- all those guys had their gear and stuff. So like I said, I pulled back."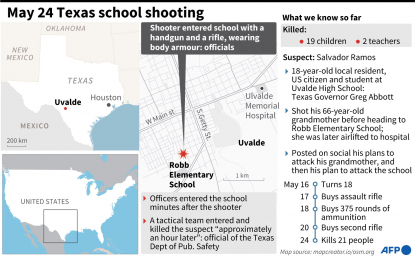 Factfile on the shooting at an elementary school in Uvalde, Texas where a teenage gunman killed 19 young children and two teachers on May 24 ( AFP Graphics / Janis Latvels, Laurence Chu)
A Border Patrol tactical unit killed the gunman, Salvador Ramos. Officers who responded to the assault have come under intense criticism over why it took well over an hour to intervene -- a delay that was the "wrong decision," Texas Department of Public Safety (DPS) Director Steven McCraw said during a May 27 press conference.
McCraw told reporters a 911 call received at 12:16 pm -- one of several made from inside the school during the shooting -- reported eight or nine children still alive. As many as 19 officers were outside the classroom door at that time, plus an unknown number of tactical team members who had just arrived, according to McCraw's timeline.
Border Patrol agents opened the door at 12:50 pm with keys provided by a janitor and killed Ramos, McCraw said.
Uvalde survivors have described making desperate, whispered pleas for help in 911 phone calls during his assault. Many played dead to avoid drawing the shooter's attention.
AFP Fact Check has debunked other false claims about the Texas school shooting.