False posts claiming 'Coca-Cola contains alcohol' circulate in Muslim-majority Malaysia
Multiple Facebook posts shared repeatedly in Muslim-majority Malaysia claim that Coca-Cola contains alcohol, meaning it is "haram" or forbidden in Islam. But both Coca-Cola and the Malaysian government agency responsible for Islamic affairs have separately said this is false. The posts shared a purported newspaper article screenshot that claimed to show an old recipe for the soft drink, which has not been confirmed by Coca-Cola. 
The post was shared here on Facebook on May 6, 2022. 
The post's Malaysian-language caption translates to English as: "Alcohol... That's not permissible [in Islam]!!" 
Screenshot of the misleading post, captured on May 26, 2022
The post contains a purported screenshot of a news article with the headline: "After 125 yrs, secret Coke formula is out." 
The article's byline is Times News Network, an online news site based in the US.
AFP has not been able to verify where the purported article was published.
The article states that an old recipe for Coca-Cola which included alcohol was revealed by the popular podcast This American Life, following the discovery of a 40-year-old report by the Atlanta Journal-Constitution. 
Coca-Cola would not confirm the purported recipe following the claims made by This American Life in February 2011, the Guardian reported.
The newspaper screenshot was shared alongside a similar claim on Facebook here, here and here. 
But the claim is false, according to Coca-Cola and Malaysian authorities.
Non-alcoholic drink
A Coca-Cola Malaysia spokesman told AFP that whilst the recipe for Coca-Cola remained a "closely guarded secret", alcohol is not one of its current ingredients.
"Alcohol is not an added ingredient of Coca-Cola and no fermentation takes place when Coca-Cola is made," the spokesman said.
"Our ingredients and manufacturing processes are rigorously regulated, and regulatory authorities around the world have consistently recognised Coca Cola as non-alcoholic.
In Malaysia, a halal certification can be obtained from the Department of Islamic Development Malaysia (Jakim), the government agency responsible for the Islamic affairs in the country. 
Below is a screenshot from the Halal Malaysia Official Portal, which shows that Coca-Cola's distributor in Malaysia has a valid halal certification:
Screenshot from the Halal Malaysia Official Portal, which shows Coca-Cola Bottlers (Malaysia) Sdn Bhd has a valid halal certification
The same website also shows the individual products produced by Coca-Cola in Malaysia that have obtained halal certification. 
Below is a screenshot of the 14 varieties of Coca-Cola and Coke Zero beverages that have been certified as halal: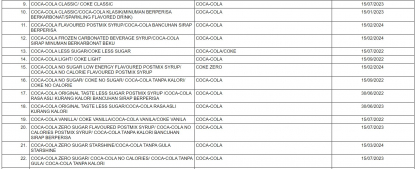 Screenshot of Coca-Cola and Coke Zero beverages that have valid halal certification in Malaysia
Coca-Cola produces 86 beverages in Malaysia -- including Sprite and Minute Maid -- which have also been certified as halal and are listed on the portal.
Below is an AFP photo of the halal logo used in Malaysia: 
The halal logo that is displayed on food products prepared according to the Islamic law in Malaysia. ( AFP / Tengku Bahar)