Old video clip from Ivory Coast is unrelated to violence in Abuja
Pro-Biafran social media accounts are circulating footage of crowds running after a police van as proof that Nigerian security forces fled for safety after trouble erupted in the country's capital Abuja. However, the claim is false: although Abuja has seen violence in recent days, the clip was filmed in Ivory Coast and has been online since 2020.
"BREAKING NEWS!!! Unknown gunmen in Abuja host a heavy gun battle Crusade.. Security men and people scampered for safety," reads the caption accompanying the footage in this Facebook post.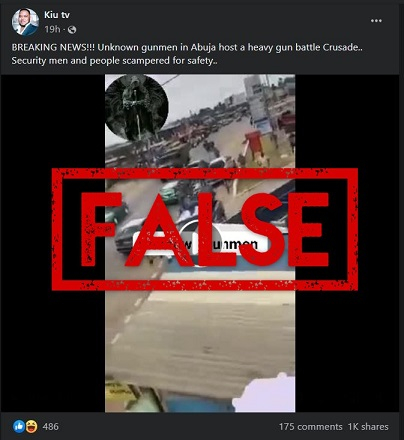 Screenshot taken on May 19, 2022, showing the false Facebook post
The 17-second video is labelled "unknown gunmen" and more than 45,000 people have seen the clip since it was published by a page called "Kiu tv" on May 18, 2022, a day after violence erupted in the Dei Dei axis of Abuja over the death of a woman who fell from a taxi motorcycle.
The Facebook page behind the post has a history of promoting the activities of the Biafran separatist group that has been pushing for an independent state in southeastern Nigeria since 1970.
The same video was also tweeted with a similar claim: "Unknown Gunmen in Abuja chase security men away from boundary between Nigeria neighboring countries (sic)." 
These claims, however, are false.
Video filmed in Ivory Coast
The footage has been circulating online since 2020 and was previously used to spread false information, including in posts purporting to show electoral violence in Nigeria's Edo state.
As AFP Fact Check pointed out in an earlier debunk, the video actually shows the Gendarmerie Nationale force in the Ivorian town of Bonoua. Ivory Coast does not share borders with Nigeria.
The footage was filmed and tweeted by France-based media outlet LSi Africa on August 7, 2020, the same day Ivorian President Alassane Ouattara formally accepted his party's nomination to run for a third term in a move that sparked outrage.