Altered screenshot of Sri Lankan reporter shared alongside claim he 'mocked government supporter'
A purported screenshot of a Sri Lankan news presenter with a bandaged eye has been shared thousands of times in Facebook posts alongside a claim he was mocking a government supporter accused of faking an eye injury after an anti-government protest. The post circulated online as the island nation faced a deepening economic crisis following weeks of protests demanding the resignation of President Gotabaya Rajapaksa. But the screenshot has been manipulated to add bandages to the journalist's eye. The original video of the news broadcast does not show him wearing an eyepatch, and he separately wrote on Facebook that the image had been altered.
The image of Sri Lankan journalist Amara Sri Bandara was shared here on Facebook on May 16, 2022.
It has been shared more than 1,000 times.
It appears to show the news presenter on the programme Newsfirst Sri Lanka with his right eye covered with a bandage.
An on-screen chyron reads: "Amara Sri Bandara - Parliamentary Correspondent". 
The Sinhala-language caption translates to English as, "Oh wow, Sirasa!", referring to a Sri Lankan television station. 
"Sirasa did it the best!" reads the Sinhala-language text superimposed on the purported screenshot.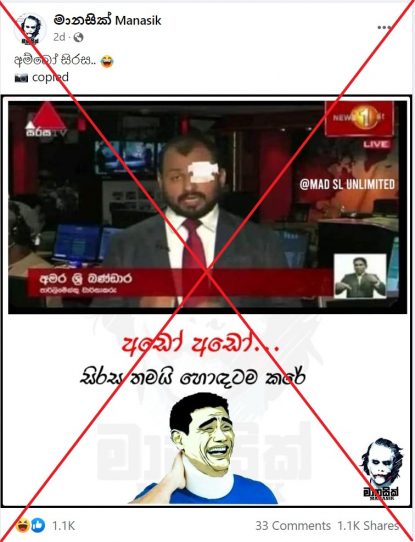 Screenshot of the Facebook post captured on May 17, 2022
The post mocks Rajapaksa loyalist Dan Priyasad, who was seen wearing a gauze eye bandage in an apology video online after local media reported he joined a mob that attacked peaceful anti-government protesters on May 9.
Priyasad was arrested following the attack, according to a report by Sri Lankan media outlet Newswire.
Sri Lanka has seen weeks of demonstrations demanding that President Rajapaksa resign over its worst economic crisis since independence from Britain in 1948. 
The purported screenshot of Bandara was shared more than 500 times on Facebook here and here. 
Some social media users appeared to believe the image of him with an eyepatch was genuine.
One user wrote, "Excellent reaction by Sirasa. Wonder how Dan feels like being the national laughing stock."
"Did not realise Sirasa had an axe to grind with Priyasad. Excellent. Sirasa really knows how to dish it out!" wrote another.
However, the screenshot has been doctored to add the eyepatch.
Altered screenshot
Bandara addressed the misleading posts in a Facebook comment on May 16, 2022.
"A photo of this same news item has been altered and created in this way...Whoever edited this has placed the bandage quite skillfully," he wrote in a reply under his own Facebook post sharing the video of the May 14, 2022 news broadcast.
Screenshot of the comment by Bandara on his Facebook post regarding the doctored image
Bandara's clothing and the backdrop correspond with his Newsfirst broadcast aired on May 14.
The screenshot shared in the misleading posts can be seen at the 19-minute 48-second mark of the broadcast, posted on YouTube by Sirasa.
Bandara is not wearing an eye bandage at this point in the video, as shown below:
Below is a screenshot comparison of the image shared in the misleading posts (left) and the corresponding frame from the May 14 broadcast (right): 

Screenshot comparison between the misleading posts' image (L) and the corresponding frame from the May 14 news telecast(R)