Video shows religious ritual months before Sri Lankan PM resigned
After Sri Lanka's prime minister resigned over attacks on peaceful protesters by his supporters, Facebook posts shared a video they claimed showed boats surrounding a naval port where he fled, in a bid to stop him leaving the country. The footage actually shows fishermen gathered for a religious ritual at a different point in the eastern Sri Lankan waters in March 2022, two months before Mahinda Rajapaksa quit.
"The sons of yakkas have surrounded the Trincomalee harbour," reads a Sinhala-language Facebook post shared on May 10.
Yakkas refers to an ancient clan in Sri Lanka, with 'sons of yakkas' commonly used by Sinhala nationalist groups to describe themselves. 
Nationalist groups that once supported Sri Lanka's ruling Rajapaksa clan have turned against them after the island was plunged into a crippling economic crisis that has sparked nationwide protests.
Screenshot of a Facebook post sharing the false claim, taken on May 13, 2022
The same video was viewed more than 25,000 times in similar Facebook posts here and here. 
Mahinda Rajapaksa resigned as Sri Lanka's prime minister on May 9 after loyalists armed with sticks and clubs attacked unarmed protesters camped outside the president's office.
He was evacuated from his official residence to an undisclosed location after the violence sparked angry clashes between rival political camps.
Rumours circulated that Mahinda -- whose brother Gotabaya Rajapaksa is president -- was seeking refuge in the Trincomalee naval base on the island's northeast coast and planning to flee abroad.
The defence ministry later confirmed he had been taken to Trincomalee "for his safety".  
Meanwhile, a court imposed an overseas travel ban on the former prime minister, his son Namal and 15 other allies in view of the investigations over the attacks on peaceful protesters.
Some social media users appeared to believe the footage showed Sri Lankan boats surrounding the naval port in a bid to stop Rajapaksa leaving the country.
"Escaping won't be easy for him this time," one comment read.
Another said: "Boys be careful. They won't hesitate to use the navy to attack you all". 
Fishermen's ritual
However, the footage actually shows fishermen taking part in a religious ritual in March 2022.
A keyword search on TikTok found the same clip posted on March 20.  
The user "@___thi_sa_ra___55" said in the comments section that he filmed the video in March 2022 and that it showed a religious ritual to honour the Hindu god Shiva.
"All the people in the boats passing by Koneswaram Kovil perform this ritual to invoke blessings from God Koneswara," he told TikTok users enquiring about the footage.
Below is a comparison of the video shared in misleading posts (left) and the video posted on TikTok (right):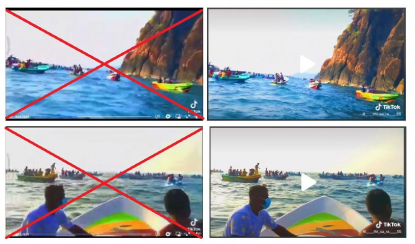 Comparison of the video shared in misleading posts (left) and the video posted on TikTok (right)
An AFP journalist in Sri Lanka recognised the rock in the video as Konesar Malai (Swamy Rock/Cliff of Trincomalee), which is home to the Hindu temple Koneswaram, which pilgrims believe to be the abode of the god Shiva. 
The cliff can be seen in a YouTube video from 2016 called "Koneswaram temple of Trincomalee".
Trincomalee harbour (marked below in red) is around 10 kilometres (six miles) from the Cliff of Trincomalee (marked in yellow) that surrounds the Koneswar Malai. 
A photo by Alamy shows fishermen gathered at the same cliff in 2015 to perform the ritual, which involves dropping offerings such as coconuts and coins into the sea to pray for prosperity.
The caption reads: "Fishing boats dropping offerings into the ocean below the Koneswaram Temple to insure prosperous days out to sea, Swami Rock, Trincomalee, Sri Lanka".
It is common for fisherman in Trincomalee to break coconuts at a Hindu temple before each fishing trip, according to a thesis on the livelihoods and identities of Trincomalee communities by Gayathri Hiroshani Hallinne Lokuge, a student at Wageningen University in the Netherlands.