Photo shows 2019 protest against India scrapping Kashmir autonomy, not 2022 Khan rally
Social media posts circulating in Pakistan share a photo they claim shows protesters in Indian-controlled Kashmir rallying in support of Imran Khan after he was booted from power in April 2022. The photo was actually taken in October 2019, when protesters gathered to thank Khan after he criticised New Delhi for sending troops to the disputed region following a controversial move to strip its autonomy.
"People in Indian-occupied Kashmir also demonstrated in favour of Imran Khan. These demonstrations are being held after the no-confidence motion," reads an Urdu-language tweet posted on April 10 by an account with more than 33,000 followers.
Former cricket star Khan was forced from office as Pakistan's prime minister on April 10 following a no-confidence vote. The ouster sparked protests across Pakistan.
Kashmir is split between arch-rivals Pakistan and India, which have fought two wars over the disputed territory.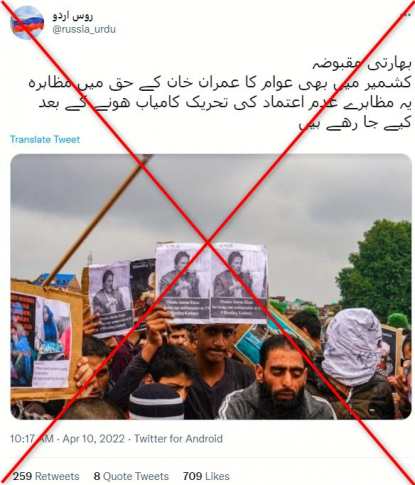 A screenshot of a false post, taken on April 21, 2022
The same photo was shared in similar posts on Facebook and Twitter here, here and here.
However, the photo does not show protesters supporting Khan after he was ousted.
A reverse image search found the photo in an article from December 5, 2019 about Khan's rising popularity among Kashmiris after he criticised India for scrapping the region's autonomy.
Speaking at the United Nations in September 2019, he accused New Delhi of plotting a "bloodbath" by sending troops to the region to impose a lockdown and detain politicians.
The caption of the photo in the article by Turkish broadcaster TRT World reads: "Kashmiris hold posters thanking Pakistani Prime Minister Imran Khan for being 'their' prime minister at the UN, in Indian-administered Kashmir."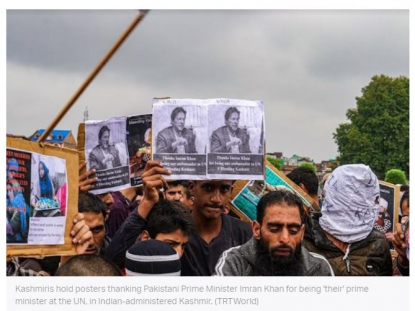 The photo, which was shared in false posts, in TRT World's article from December 2019
Keyword searches found a video published by Getty Images showing the demonstration from a different angle.
According to Getty Images, the protest took place on October 4, 2019 in Kashmir's regional capital Srinagar.
"Pro-freedom protesters march during a protest in Srinagar, Kashmir on October 04, 2019. Shutdown continues across the Kashmir valley on 61st day since India revoked Article 370 of its constitution which granted Kashmir autonomy," the video caption reads.
The footage shows the same people seen in the photo shared in false posts, including a bearded man and a person with a white bag over their head.
Comparison of the photo shared in false posts (L) and Getty Images's video of the protest (R)
In addition, a man can be seen holding a sign featuring an image of Khan alongside text reading "4/10/19" and "Thanks Imran Khan for being our ambassador in UN #Bleeding Kashmir".
A building with a blue roof and a tower are also visible in the background of both images.
Comparison of the photo shared in false posts (L) and Getty Images's video of the protest (R)
A photo of the demonstration from the Anadolu Agency also shows the same people and signs.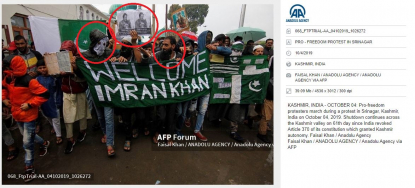 A photo of the protest from the Anadolu Agency
AFP has debunked a wave of misinformation following Khan's ouster.