Philippine vice president's daughter tweeted to support politician, not to admit 'making sex tape'
As Philippine Vice President Leni Robredo battles to close the gap with her presidential rival Ferdinand Marcos Jr before polls on May 9, 2022, social media posts have repeatedly claimed Robredo's daughter admitted on Twitter to making a sex tape. But this is false: the posts feature an old tweet by Robredo's daughter Aika that was part of a 2016 online campaign in support of an opposition senator.
A screenshot of Aika Robredo's tweet was shared on Facebook on April 14, 2022.
It reads: "I would like to testify in the [House of Representatives]. It was me in the sex video. #EveryWoman".
The caption of the post reads in part: "To Aika Robredo: You won't need to testify. This public admission, I believe, would suffice."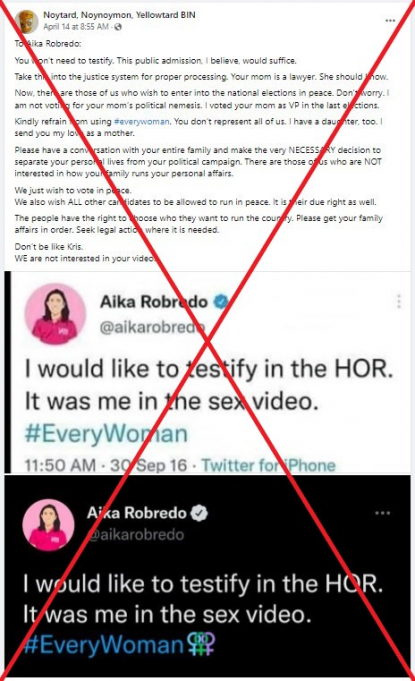 Screenshot of misleading Facebook post, taken on April 21, 2022.
The screenshot circulated online after Robredo's camp denounced online posts about an alleged sex video involving her eldest daughter as "malicious fabrication".
Robredo has been a major target of false and misleading posts often fanned by supporters of her rival for the top job, Marcos Jr.
Similar screenshots of the same tweet were also shared on Facebook here, here and here; and on Twitter here and here.
Comments on the posts suggest online users were misled.
"So she really admitted it," one wrote.
"She confessed because it did not get viral enough," another commented.
But the claim in the post is false.
Google keyword searches found the screenshot corresponds to this archived version of Aika Robredo's tweet on September 29, 2016.
"That tweet was in support of Sen Leila de Lima," she told AFP on April 21.
De Lima is a high-profile critic of Philippine President Rodrigo Duterte's brutal drug war.
In 2016, unsubstantiated allegations swirled that the senator had a sex video and, according to local broadcaster GMA News, the alleged video would be shown in a public hearing at the House of Representatives.
Other prominent personalities -- for example Filipino journalist Ces Drilon and forensic pathologist Raquel Fortun -- shared the same tweet as part of a campaign denouncing the attack against De Lima, news outlet Rappler reported.
The senator was arrested in 2017 on charges she said were meant to silence her; she remains in police detention.