Video of hardline Hindu politician slamming Bollywood's Shah Rukh Khan is from 2015
A video has been viewed thousands of times on social media posts in Hindu-majority India claiming it shows controversial Hindu monk and politician Yogi Adityanath urging people to boycott Muslim Bollywood star Shah Rukh Khan's film "Pathaan", which is set for release in 2023. However, the claim is misleading; the clip has circulated online since 2015, when the actor was targeted by the politician for a different reason. 
"Yogi Adityanath's message urging people to abstain from watching Shah Rukh Khan's upcoming movie titled 'Pathaan'. Share the message of Yogi Ji at once and make it viral," reads a Hindi-language Facebook post from March 29. 
The video, viewed more than 6,000 times, shows Adityanath laying into Khan and accusing him of making "anti-nationalist" statements. 
Adityanath, a firebrand Hindu monk from the ruling Bharatiya Janata Party (BJP), is chief minister of India's most populous state, Uttar Pradesh. 
A poster boy of Hindu nationalism, he campaigns against "anti-nationals" -- seen as a euphemism for Muslims who make up around one-fifth of Uttar Pradesh's population.
"Shah Rukh Khan should remember that if the majority of the people boycott his films, he will have to wander the streets like an ordinary Muslim," Adityanath says.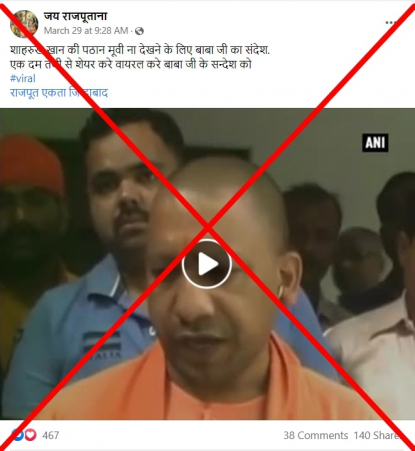 A screenshot of the misleading Facebook post, taken on April 12, 2022
The video has been viewed more than 25,000 times alongside the same claim on Facebook here and here, and on Twitter here and here.
The posts surfaced after Khan announced the release of his upcoming film "Pathaan" in January 2023. 
However, the claim is misleading; Adityanath's press office told AFP the statement is old. 
"This statement is quite old and the reason for this was something else. Yogi Ji has not given any statement about Shah Rukh Khan or his film 'Pathaan' recently," they said.
2015 controversy 
A keyword search on YouTube found the footage shared in various videos from 2015.
The original video, uploaded by Indian outlet Asian News International (ANI) to its official YouTube channel on November 4, 2015, is titled: "Adityanath compares Shahrukh to Hafiz Saeed."
Below is a screenshot comparison of the video in the misleading post (left) and ANI's video from 2015 (right). 
Adityanath was speaking after Khan pledged support for a string of writers, artists and scientists who returned national and state awards to protest rising religious intolerance following a series of incidents of communal violence and attacks on intellectuals in 2015.
Since the Hindu nationalist BJP took power, more than 40 novelists, essayists, playwrights and poets have now returned awards.
The description of ANI's YouTube video reads: "As the hate storm against Shah Rukh Khan showed signs of subsiding, Bharatiya Janata Party (BJP) MP Yogi Adityanath on November 4, 2015, stoked the controversy again saying there was absolutely no difference between the thinking of 2008 Mumbai terror attacks mastermind Hafiz Saeed and Bollywood superstar Shah Rukh Khan."
Hafiz Muhammad Saeed is the head of Pakistan-based militant group Lashkar-e-Taiba, which the governments of India and the United States consider to be responsible for the 2008 attacks that killed 166 people.
The group is listed as a terrorist organisation by the United Nations.
Saeed was sentenced to nearly six years jail in Pakistan in February 2020 on separate charges of "being part of a banned terrorist outfit" and "having illegal property".
The Indian Express newspaper reported on Adityanath's attack on Khan in an article from November 5, 2015. 
"Two days after actor Shah Rukh Khan said there was 'growing intolerance' in the country, BJP MP Yogi Adityanath Wednesday compared him to Pakistani terrorist and 26/11 mastermind Hafiz Saeed, and said he is 'welcome' to go to Pakistan," it reported.