Social media posts mislead on South Korean diplomat's UN labour agency chief bid
Korean-language Facebook posts circulating in April 2022 claim that South Korea's ex-foreign minister Kang Kyung-wha failed to get elected chief of the International Labour Organization (ILO) as she received only one vote from the Gambia. However, ILO documents show the Gambia is not a member of the agency's governing body that votes for its chief, and AFP previously reported that Kang in fact received two votes. Claims about a purported Korea-Gambia alliance are part of a long-running political joke in South Korea.
The claim was shared here on Facebook on April 2, 2022.
The post features a photo of a group of men running while brandishing traditional weapons.
Korean-language text superimposed on the photo translates to English as: "Photo shows the Gambian special forces going through training.
"Kang Kyung-wha received only one vote in the latest ILO direct general election, and it was from the Gambia.
"It shows a strong 5-year strong alliance between two nations."
The post's caption makes a similar claim about the purported "Korea-Gambia alliance". 
Screenshot of the misleading Facebook post, taken on April 5, 2022.
Kang is a South Korean diplomat who served as the country's foreign minister between 2017 and 2021.
In March 2022, she ran in an election for the new director general of the International Labor Organization (ILO), the UN labour agency.
In the five-way race, Kang lost to to Gilbert Houngbo, a former prime minister of Togo.
Similar Facebook posts were also published here, here, here and here.
Comments to these posts suggest some social media users were misled.
"What a strong alliance," one user wrote, while another said: "What an embrassing result." 
Screenshot of Facebook users' comments
However, the claim originated in a long-running political joke about Kang.
'Korea-Gambia alliance'
In 2017, in a bilateral meeting with the Gambia's foreign minister, Kang reportedly discussed the Gambia's role in denuclearisation in the Korean peninsula, according to the Yonhap News Agency here.
The meeting has since become a subject of satire posts mocking Kang for discussing inter-Korea relations with a country located in a faraway continent. Examples could be seen here, here and here.
South Korean newspaper Chosun Ilbo reported on the popularity of the "Korea-Gambia alliance" satire here in 2019.
The Gambia is also not among the ILO governing body's regular members, wich elected the agency's new head in 2022, as shown in this official list.
According to this AFP report, the ILO said Houngbo received 30 votes in the second-round voting on March 25, 2022, while Kang received two.
The vote took place by secret ballot behind closed doors.
Misused photo
The photo featured in the misleading post was taken by an AFP photographer in 2010 and does not show "Gambian special forces" as claimed.
It shows members of the Amungme tribe in Indonesia's Papua province running to strike another group following a dispute.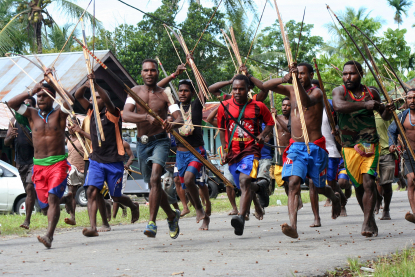 Amungme tribe men run to strike another group of Amungme as a dispute has arisen in Timika, Indonesia's Papua province, on January 5, 2010. ( AFP / Tjahjo Eranius)