Posts misattribute quote to New Zealand PM
Twitter users claim Prime Minister Jacinda Ardern said New Zealand has been spared populist anger because Rupert Murdoch was never allowed to establish a business there. But her office says the claim is false, and while a former Green Party official said something similar, there is no evidence that the premier publicly made such a remark.
"Asked why New Zealand does not suffer from the rage of older white men like in other western Anglo countries, PM Jacinda Adern replied, 'Because we've never allowed Rupert Murdoch to set up a media outlet here.' The guy has wreaked havoc on civil society in US," says an April 2, 2022 tweet by Jaimey Sexton, a Chicago-based man, that has been liked more than 220,000 times, and which misspells the premier's last name.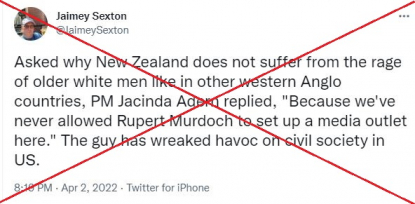 Screenshot of a tweet taken on April 6, 2022
The same claim circulated on Twitter in since-removed posts in North America, here and here.
Ardern, leader of the Kiwi Labour Party, was hailed as a progressive force when she assumed office in 2017, at a time when populist politics were on the rise globally. Murdoch owns conservative-leaning media outlets.
Illustrating how inaccurate claims spread online, Sexton said he came across the alleged quote and shared it on social media without considering if it was authentic.
"It was Saturday night, I was watching basketball. I looked at my phone, I saw it and I thought, 'Oh, that's interesting.' Then it became a thing," Sexton told AFP, adding: "I did not research it, but I know enough about Jacinda Ardern to know that her sentiments are similar."
But Andrew Campbell, a spokesman for Ardern's office, told AFP: "The Prime Minister did not make this statement."
British newspaper The Guardian attributed a similar quote to David Cormack, a former head of policy and communications for New Zealand's Green Party, in a 2020 article.
"A huge reason that our politics is not so extremely polarized and so far out there is because we no longer have Murdoch-owned press in New Zealand, and it's never taken a foothold," it quoted him as saying.
When a Twitter user pointed this out to one of the first people to share the alleged Ardern quote, the person admitted that Cormack was behind the words, and said that they "read somewhere" that Ardern paraphrased him.
There is no record of Ardern either alluding to Cormack's statement, or saying herself that Murdoch was never allowed to work in New Zealand.
Although Australian-born Murdoch formerly owned stakes in New Zealand subscriber TV operator Sky Network Television, he sold those shares in 2013.
"We own no news media in NZ but historically have done so," Mathew Charles, a spokesman for News Corp's Australia branch, told AFP.
Murdoch, 91, remains chair of Fox News parent Fox Corporation, with his son Lachlan serving as chief executive. The family also controls News Corporation, which includes The Wall Street Journal and other outlets in Britain and Australia.