James Bond promo footage of choir in Russia falsely linked to Moscow's invasion of Ukraine
A video circulating online after Russia's invasion of neighbouring Ukraine has racked up tens of thousands of views alongside a claim it shows members of the "Russian army choir" being arrested for singing about peace in Russian President Vladimir Putin's hometown of Saint Petersburg. In reality, the video corresponds to old footage published in reports since 2015 about a stunt staged to promote the James Bond film "Spectre".
The video was posted on Twitter on February 27, 2022.
It has been viewed more than 100,000 times.
"During the performance of the Russian army choir in Saint Petersburg, Russian state security arrested them for singing a song about "peace"," reads the video's traditional Chinese-language caption.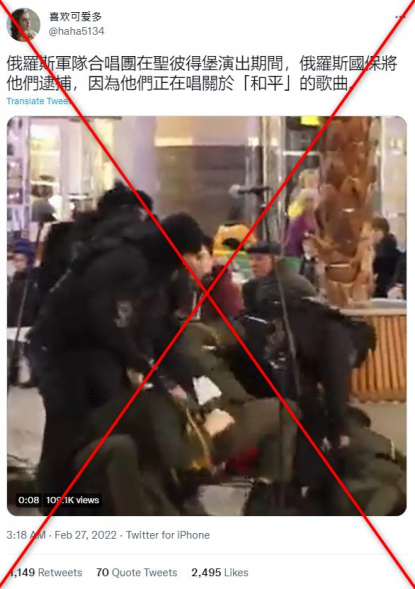 A screenshot of the false post. Taken on March 23, 2021.
As of March 13, 2022, more than 14,000 people had been detained at rallies across Russia against Moscow's invasion of Ukraine, according to OVD-Info, which monitors arrests during protests in Russia. AFP reported on the protests here.
AFP filmed footage of people being arrested at an anti-war rally here.
Protesters risk fines and possible prison sentences by taking to the streets.
The same video of a choir performing in Saint Petersburg was also shared on Twitter, Facebook and Weibo alongside a similar claim.
Comments on the posts suggested some social media users were misled.
One wrote: "The army choir can be arrested that casually? Shouldn't the Russian army immediately start a coup?"
Another said: "The choir probably would not dare criticise Putin directly when performing in a public place.
"They are preaching peace and expressing their wishes through songs. I wonder why they were treated so violently by the police? Is it because of Putin's guilty conscience or is this chorus subverting state power?"
The video, however, had been shared in a false context.
A Google reverse image search of keyframes found the video corresponds to longer footage published here by the Russian state-controlled media RT on November 6, 2015.
Below is a screenshot comparison of the video in the false posts (left) and the video published by RT (right) with similar features circled by AFP:
A screenshot comparison of the video in the misleading post (left) and the video published in RT's news report (right) with similarities circled by AFP.
In the longer footage, choir members wearing military uniforms can be seen singing "Writing's on the Wall", the theme song for the James Bond spy film "Spectre".
The RT report states in part: "The incident appears likely to be a huge joke -- a publicity stunt on the eve of 'Spectre' opening in Russian cinemas.
"In a video released Thursday, the masked men interrupt the guys in the middle of their performance, putting the uniformed singers on the ground and later taking them away with their hands behind their backs."
Spectre premiered in Russia on November 5, 2015 according to the online movie database IMDb.
The RT video was also published in this 2015 report by the Northern Irish newspaper Belfast Telegraph.
Russia's invasion of Ukraine has triggered a wave of misinformation. AFP has debunked some of the most viral posts here.