Canada gas station discount claims are hoaxes
Facebook posts claiming to feature a list of Canadian gas stations participating in a fuel cost saving program in response to surging prices have been shared thousands of times, crediting the discounts to various politicians. But the posts lead to a hoax website with a picture of an ape making an offensive gesture.
"Jason Kenney for the win ! He just gave out a huge incentive for saving money at the pumps ! Here's a list of all the gas stations that are participating in the fuel savings. Most of them in town saving $0.50 a litre, regular, premium or diesel !" says a March 12, 2022 Facebook post, referring to Alberta's premier.
Similar posts have credited the discounts to Canadian Prime Minister Justin Trudeau, British Columbia's Premier John Horgan, or the Government of Saskatchewan.
Screenshots taken on March 15, 2022 of three Facebook posts
The posts include what appears to be a direct link to find participating gas stations, but clicking on it brings up a photo of a gorilla with its middle finger raised.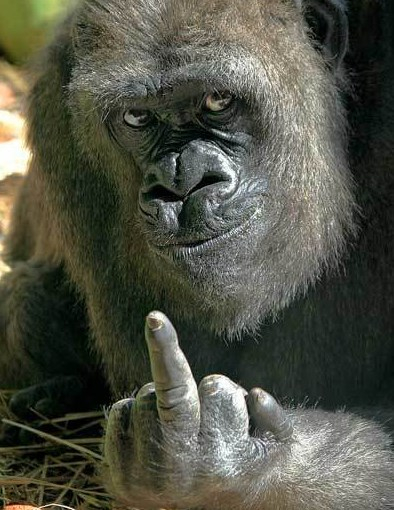 Screenshot taken on March 15, 2022 of the image revealed after clicking on the link in the Facebook posts
---
They also feature the breaking news logo of Canada's Global News. Laura Baziuk, Global's managing editor for digital and radio in British Columbia, told AFP: "Global News has nothing to do with these posts and has not produced such a list."
The posts circulated as gasoline prices in Canada hit record levels in March 2022 amid tight supply. Some comments on social media suggested users believed the posts, but others shared them as a joke.
Screenshot taken on March 1, 2022 of comments on a Facebook post
Kenney did announce on March 7 that Alberta would temporarily drop its provincial gasoline tax starting on April 1. "This relief is based on a sliding scale for oil prices. When the price of oil is over $90 -- that's West Texas Intermediate -- per barrel, the fuel tax will be removed completely. When the price of oil is less than $80 per barrel of WTI, the fuel tax of 13-cents-per-liter will be in full effect," he said.
In Saskatchewan, Premier Scott Moe said his government had no plans to end or suspend the province's 15-cent tax per liter.
Similarly, British Columbia's minister of public safety Mike Farnworth told a March 7 news conference that the province was not planning to follow Alberta in lifting its fuel levy.
At the federal level, a carbon tax passed by Trudeau's government was set to increase on April 1, impacting fuel prices across Canada.
March 16, 2022 This story was updated to add comment from Global News.