This video shows a petrochemical plant explosion in China in 2015, not Malaysia in 2022
A video has been viewed millions of times after it was shared in social media posts that claim it shows a blaze at a petrochemical plant in Malaysia's southern state of Johor in February 2022. But while Malaysian media reported a fire in Johor on February 24, the video has been shared in a false context. The video in the posts has circulated in reports about a petrochemical explosion in China's eastern Shandong province in 2015.
The video, shared on TikTok here on February 24, 2022, shows a building catching fire followed by a big explosion.
Text superimposed on the video reads: "Today / Malaysia, Johor Baru / Pasir Gudang / Titan Chemical Factory." 
The 17-second video has garnered more than 3.8 million views.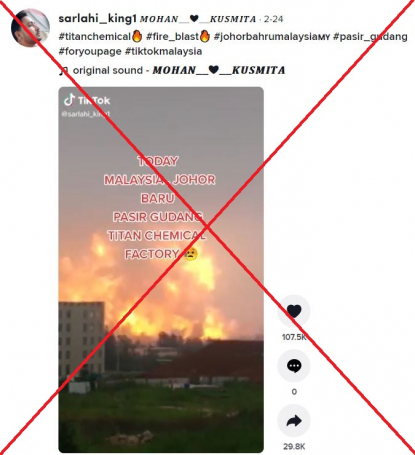 Screenshot of the false post, taken on March 17, 2022
Fire ripped through the Titan Himont Petrochemical plant at the Tanjung Langsat Industrial Complex in Pasir Gudang, a city in Malaysia's southern state of Johor, on February 24, 2022, local media such as the New Straits Times and the Star reported.
Three people were injured in the three-hour blaze, local news outlet The Rakyat Post reported.
The same video was also shared alongside a similar claim on TikTok here and here. 
However, the claim about the video is false.
A combination of a reverse image search and keyword searches on Google found this 35-second video, published in 2015 on the website of video-licensing agency Newsflare.
According to the Newsflare video's description, the footage was taken on July 16, 2015, and shows a massive explosion at a petrochemical plant in China.
The first two paragraphs of the video's report reads: "A dramatic video has emerged from China of the moment a huge explosion occurred at a petrochemical factory.
"In the footage, captured in Shandong Province on Thursday, a huge fire can be seen in the distance, before another explosion erupts, leading to more blazes."
Below are screenshot comparisons of the video in the misleading post (L) and the video from Newsflare (R): 
Screenshot comparisons of the video in the misleading post (L) and the video from Newsflare
Chinese state broadcaster CCTV also used the same footage in its coverage of the explosion in Rizhao, a city in Shandong province, on the same day. The report said three blasts were heard during the incident. 
Other images and footage from the July 2015 explosion were published by China Daily, a Chinese state-owned English-language newspaper, and British media outlet The Guardian, and they correspond with the visuals seen in the Newsflare video.
No deaths were reported in the incident, according to the media reports.
Clips of the February 2022 fire at the Malaysian petrochemical plant were published by local media including New Straits Times and Free Malaysia Today.