Old image of food truck in Canada shared in posts about Sikhs giving support in Ukraine
As Russian troops invaded Ukraine, an image of a food truck was shared thousands of times in social media posts that claimed it shows members of the Sikh community offering free food to people affected by the conflict. However, the photo was shared in a false context. While there have been reports by Indian media outlets about a Sikh humanitarian organisation offering support to people who have fled war-torn Ukraine, the image of the food truck shows a Sikh community initiative in Canada.
"Sikh Community Initiative in Ukraine 'Guru Ka Langar'," reads a Hindi-language tweet from February 26, 2022.
It has been shared more than 4,000 times.
In Sikhism, Guru Ka Langar is a community kitchen that offers free food to those in need.
The photo shows people eating in front of a food truck featuring the words "Free food" and "Guru Nanak's Langar GoodBye Hunger".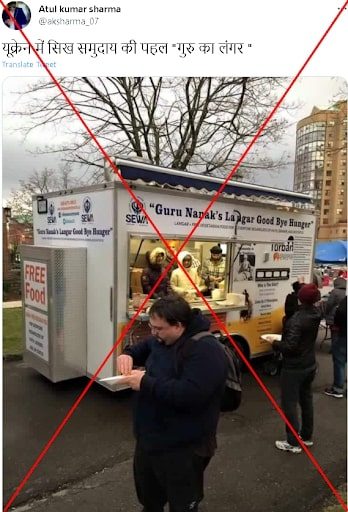 Screenshot of the misleading post taken on February 28, 2022
Russian missiles and shells rained down on Ukrainian cities after President Vladimir Putin unleashed a full-scale ground invasion and air assault on February 24.
The same image was shared alongside a similar claim on Twitter here and here; and on Facebook here, here and here.
However, the photo has been shared in a false context.
Whilst Indian newspapers have reported here and here about Sikh volunteers providing food and aid to people fleeing Ukraine, the image was actually taken in Canada before Russia invaded Ukraine.
Toronto food truck
A reverse image search found the photo in a 2018 tweet that said it was taken in Canada.
"Canada's first Free Food Truck – Guru Nanak Dev Ji's LANGAR – Goodbye Hunger," reads the tweet from an account called We The Sikhs.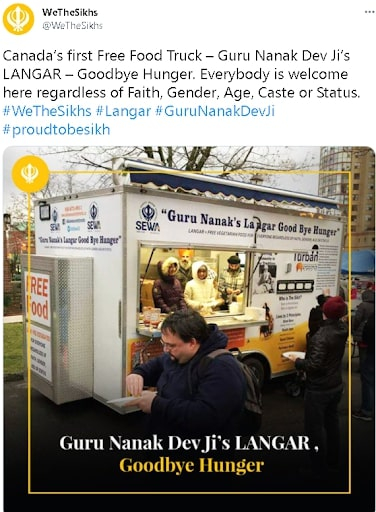 A screenshot of the image upload by 'We The Sikhs'
A keyword search for "SEWA" -- an acronym displayed on the truck -- found details of a free food project run by a Canadian organisation called Sikh Sewa Society Toronto.
Highlight of the word 'SEWA' printed on the truck
Sikh Sewa Society Toronto provides a free food service in the Canadian city.
According to its website, "volunteers take pride in dedicating their time to serve the community by providing free food and educating our fellow citizens about the Sikh faith".
A search on the organisation's Instagram page found the same image that has recirculated in false posts.
"The board would like to clarify that our operations service vulnerable communities in the GTA and the organization currently does not have any active operations outside of Canada. Please don't spread fake news," reads the post from February 28, 2022.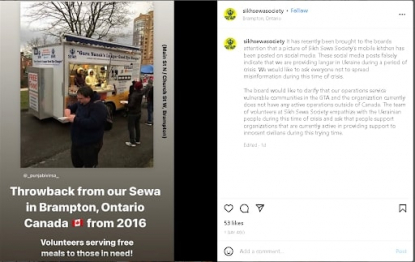 A screenshot of the post by Sikh Sewa Society Toronto
Contacted by AFP, a representative for the Sikh Sewa Society said the photo was an old image from Canada, not Ukraine.
"We don't have any free food service trucks outside Toronto right now," they said.
AFP geolocated the location of the free food service truck image using text on Sikh Sewa Society's Instagram post from February 2022.
Text to the right of the original image on Instagram reads: "Main Street N / Church Street W, Brampton".
Visual features from the photo can be found on Google Street View images of Main Street North and Church Street West in the city of Brampton, in the Greater Toronto Area.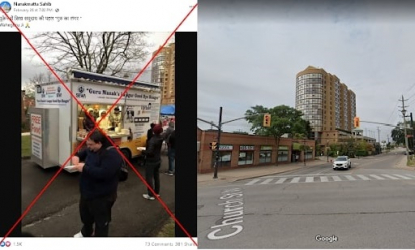 A comparison of visual features from the misleading post (left) and photo found on Google Street View images of Main Street North and Church Street West in Brampton, Toronto (right).
The same image of a tall building with glass can be seen behind the truck, which is also clearly visible in the picture.
Sikh volunteers
One group offering support to people who have fled war-torn Ukraine is the UK-based Sikh humanitarian organisation Khalsa Aid.
A post on the group's Twitter page says team members are "providing food, shelter and basic medical aid where possible" at Ukraine's borders with Poland, Romania, Moldova, Slovakia and Hungary.
Khalsa Aid has also shared videos of their volunteers working in Hungary and Poland.
AFP has debunked various false claims circulating online about the Ukraine conflict.