Old footage of Ukrainian soldiers recirculates after Russian invasion in 2022
After Russia invaded Ukraine in February 2022, a video of men in military uniform embracing women was viewed more than 350,000 times in social media posts that claimed it showed Ukrainians saying goodbye to loved ones before going off to fight. In fact, the footage was taken from a documentary about the 2014 conflict between Ukraine and Russia.
"I want to cry watching this video. Ukrainian men were ordered to enlist in the army even though they did not have any prior fighting experience. They are probably being sent to die. Who knows if this hug would be their last #Ukraine," reads a Thai-language tweet posted on February 24.
The footage, viewed more than 350,000 times, shows two men in balaclavas and military uniform embracing crying women.
Screenshot of the misleading post captured on February 28, 2022
The video was shared in similar posts on Facebook and here and here on Twitter.
However, the footage has been shared in a misleading context.
While all Ukrainian men aged between 18 and 60 have genuinely been called up to fight Russia's invasion in February 2022, the video was taken from a documentary about the 2014 Ukraine-Russian conflict.
A reverse image search found a still image from the video on the website of the Czech Republic Documentary Film Institute, which supports the creation of documentaries in Central and Eastern Europe.
The image is included in a gallery of stills from the documentary "The War of Chimeras", which was released in 2017.
It follows the journey of the film's co-director Anastasiya Starozhickaya and her Ukrainian soldier boyfriend during the 2014 conflict after Russia annexed its Crimea peninsula.
A photo similar to one of the scenes of the misleading video can be seen in the "Gallery" section on the website.
Screenshot of the Documentary Film Institute website taken on February 25, 2022
Below is a comparison of a screenshot of the misleading video (left) and the still from the documentary (right):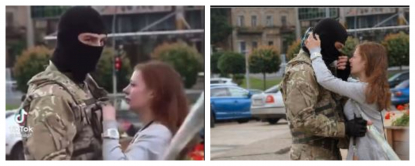 Screenshot comparison of the misleading video and the documentary still taken on March 2, 2022.
The full version of the film was uploaded to YouTube on February 23, 2022. The footage in the misleading posts can be seen between 02:47 and 03:06.
Farewell in 2014
Reverse image and keyword searches found similar images and footage of Ukrainian volunteer soldiers saying goodbye to their partners published in other news reports from June 2014.
In this video published on June 23, 2014, one of the women seen in the misleading video can be seen at 2:11 from a different angle.
A photo of young Ukrainian men recruited to a volunteer military unit saying goodbye to their partners was also captured by an AFP photographer here.
The ongoing conflict in Ukraine has sparked a flood of misinformation, debunked here by AFP.