Sri Lankan social media users share misleading 'mask exemption' claim
Facebook posts have circulated in Sri Lanka claiming anyone living in the island nation who has received a Covid-19 booster jab will be exempted from a law enacted in 2020 that made mask-wearing mandatory in public places. The posts are misleading; as of March 2, 2022, Sri Lanka does not have mask exemptions for vaccinated people, including those who have received a booster jab.
The claim was shared in this post on Facebook on February 21, 2022.
The Sinhala-language caption translates to English as: "Masks not mandatory for those who have obtained the booster vaccine."
The Sinhala-language text superimposed on the image repeats the claim.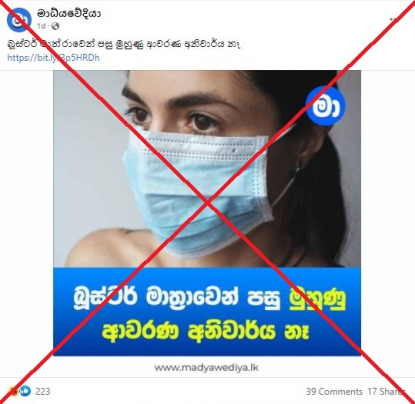 Screenshot of the misleading post taken February 23,2022. ( Lakna PARANAMANNA)
The island nation has recorded more than 646,000 Covid-19 cases as of March 2, 2022 and has seen a spike in new infections since January 2022 following the spread of the Omicron variant.
As of March 2, 2022 about 30 percent of Sri Lanka's population was vaccinated with three doses of a Covid-19 vaccine.
The same claim was also shared on Facebook here and here.
Comments on the posts suggested some social media users were misled.
"Won't this make the Omicron situation worse?" one read.
Another said: "This is a dangerous situation. Why would health authorities allow this?"
However, the claim is misleading.
Mask law
A law that made it compulsory to wear masks in public places was still in force in Sri Lanka as of March 2, 2022.
The legislation was enacted in October 2020 by Sri Lanka's health ministry under the Quarantine and Prevention of Diseases Ordinance.
The law makes some exemptions for people who suffer from breathing problems, and children aged two or under, as outlined in this guidance from the ministry.
In practice, the Sri Lankan police force was enforcing mask mandates as early as April 2020, Sri Lankan news site News First reported.
Mask-wearing is a key measure to reduce virus transmission and help save lives during the pandemic, according to the World Health Organization (WHO).
Health chief's comments
The posts appear to have misrepresented comments by Sri Lankan Health Services Director General Dr Asela Gunawardena to local media.
Some of the posts shared this link to a report which referenced Gunawardena's comments on mask-wearing in an interview with Sri Lankan television channel Hiru TV.
In the livestreamed interview on February 20, 2022, Gunawardena said that certain restrictions -- including mask mandates -- could only be relaxed after Sri Lanka had completed its booster vaccine rollout.
Just before the 17-minute mark of the video, he said: "There are various requests being made to lift the mask mandate and authorise holding concerts."
He went on to say that virus immunity levels in Sri Lanka would have to reach "expected levels" before restrictions could be relaxed.
In response to the misleading posts, Gunawardena told AFP that people who had received a booster jab were not exempt from Sri Lanka's mask law.
"Sri Lanka is currently not in a position to remove the mask mandate due to the spread of the Omicron variant", he said.