Posts share photo of wrong woman after footage of Indian Muslim student being harassed goes viral
Social media posts circulating in Hindu-majority India claim to show a photo of a Muslim student who was filmed admonishing a group of Hindu men after they harassed her outside her college in the southern Indian state of Karnataka. The posts -- which claimed to show the same woman without a headscarf -- circulated online after a hijab ban at local colleges in the state sparked protests. In fact, AFP found the photo shared in the posts shows a different woman.
The photo -- which has been annotated with a green circle around one woman's face -- was shared here in a Facebook post on February 9, 2022.
The post's Hindi-language caption translates to English in part as: "The girl in the green circle, she is the Karnataka hijab girl."
"Hijab girl" refers to 19-year-old Indian student Muskan Khan, who was filmed being harassed by a group of Hindu men outside her college in Karnataka in February, after a hijab ban in some of the state's schools sparked protests.
A screenshot of the misleading Facebook post
The image was shared alongside a similar claim here, here and here on Facebook; and here and here on Twitter.
However, the woman circled in green is not Khan.
AFP found it shows Najma Nazeer, who describes herself as a local activist based in Bangalore, the capital city of Karnataka.
A keyword and reverse image search found the photo was uploaded on May 31, 2019 in a Facebook post in which Nazeer's Facebook account was tagged. 
Below is a screenshot comparison of the image in misleading posts (L) and the image from the 2019 Facebook post (R):
Screenshot comparison of the image in misleading posts (L) and the image from the 2019 Facebook post (R)
Nazeer, who is also Muslim, joined regional political party Janata Dal (Secular) in 2020, local media reported.
She told AFP by direct messages on Twitter that she was the person circled in green in the false social media posts.
"They are sharing my image because they are against me, as I work for constitutional rights," Nazeer said.
She also identified the other women in the picture as activists Shehla Rashid, Richa Singh and Teesta Setalvad. Film actor turned politician Prakash Raj can also be seen in the photo.
Below is a comparison of the photo of Nazeer in the misleading posts (L) and another photo of her taken from her Facebook profile (R):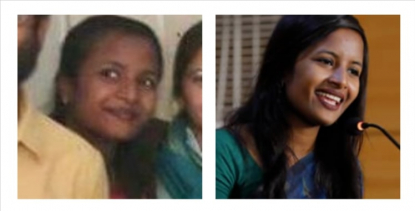 A comparison of the photo of Nazeer in the misleading posts (L) and another photo of her taken from her Facebook profile (R)