Clip shows Turkish soldiers en route to Syria in 2018, not in Jerusalem in 2021
A post with a video viewed thousand of times on Facebook and TikTok purports to show Turkish soldiers arriving at the Al-Aqsa mosque in Jerusalem amid the latest Israeli-Palestinian conflict. But the claim is false: while the clip is of Turkish soldiers, it was taken in 2018 when the country sent troops to Syria to fight Kurdish forces.
"Turkey army arrived in Palestine to protect Masjid Al Aqsa," reads a Facebook post featuring a TikTok video.
In the recording, an army vehicle cruises past a cheering crowd while waving a Turkish flag. A soldier with glasses and a blue beret is seen shaking hands with people in the crowd.
A screenshot of the false Facebook post, taken on May 20, 2021
The same video was published on TikTok here with the caption: "free palstine we are with palstine always (sic)".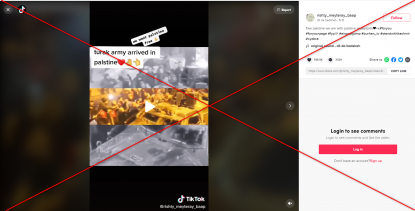 A screenshot of the false TikTok post, taken on May 20, 2021
A different version of the video in Bosnian, taken from the same parade, also appeared here on Facebook with the same false claim.
Old Video
By doing reverse image searches on selected video keyframes, AFP Fact Check found a longer version of the video posted on YouTube on January 1, 2019. According to the description, the clip was taken in Pazarcık in Kahramanmaraş district, the site of a military base in Turkey.
Screenshots from the video posted on Youtube in 2019 (L) and clip posted on Facebook (R) , taken on May 20, 2021
A further search with the additional location details led to this YouTube video published by Turkish news site Aksu TV Haber on February 13, 2018. The bespectacled army official (who also appears in the Facebook video) can be seen 2'10" into the clip.
A caption accompanying the video reads: "Citizens of the military convoy that went to the borderline for Operation Olive Branch in Kahramanmaraş held a farewell ceremony in Pazarcık district center".
A screenshot of the video published by Turkish news outlet Aksu TV Haber's YouTube channel, taken on May 20, 2021
Operation Olive Branch
About three years ago, Turkey launched a military operation codenamed "Operation Olive Branch" in Syria's northern region of Afrin, targeting the Kurdish People'' Protection Units (YPG) which Ankara considers a terror group.
On January 20, 2018, Turkish President Recep Tayyip Erdogan announced that Ankara had launched a ground offensive to oust Kurdish militia from Afrin. The following day Turkish troops and tanks entered Syria.
But days before the Turkish army set foot in Syria, street celebrations were held in the city of Pazarcik to bid them farewell. The celebrations were covered by the Turkish news agency IHA and by CNN Turk on February 13, 2018.
Gaza conflict
The latest deadly clashes between Israel and Palestinians were sparked by a years-long bid by Jewish settlers to take over Arab homes in the Sheikh Jara settlement in annexed East Jerusalem. Protests followed, leading to Israeli forces storming the Al-Aqsa mosque compound in Jerusalem – one of Islam's holiest sites.
The bloody conflict escalated after Hamas, the Islamic group that controls Gaza, had launched rockets at Israel, which responded with a deadly bombing campaign.