Children recently vaccinated against polio do not spread a virus that causes severe hand, foot and mouth disease
Memes shared thousands of times in North America claim there is a connection between the polio vaccine and severe outbreaks of hand, foot and mouth disease (HFMD). This is false; the Canadian Public Health Association (CPHA) and the US Centers for Disease Control and Prevention (CDC) said the polio vaccines available in North America are inactivated, meaning people who receive this vaccine do not 'shed' or give off the virus and cannot infect others.
"Children recently vaccinated with the polio vaccine are shedding the EV71 enterovirus which causes the most serious cases of hand, foot, mouth disease," claims one version of a meme warning against vaccination. 
Screenshots taken on October 21, 2019 of three Facebook posts
Most of the posts source their information to an article published on June 20, 2018 by Health Freedom Idaho, a citizens advocacy group in the United States. That article was removed by Health Freedom Idaho, but an archived version of it was saved here. 
A correction was added into the article, as seen in this version archived on March 19, 2019. The correction said the claim "that the polio vaccine could cause outbreaks of HFMD, was based on a misinterpretation of the scientific research."
"There is no causative connection between polio vaccines - specifically the oral polio vaccine - and EV71 enterovirus/Foot & mouth disease," Dr. Christopher Rutty, founder and president of Health Heritage Research Services and a professor at the University of Toronto, told AFP via email. 
Despite this, memes containing false information continue to circulate.
Here is what we know about HFMD and the polio vaccine in North America.
Hand, foot and mouth disease
"Hand, foot and mouth disease is a common viral illness that mainly affects infants and children but can sometimes occur in adults. It is caused by a group of viruses called enteroviruses, including certain coxsackie viruses (most commonly A16) and enterovirus 71," according to Health Canada.
There is no vaccine or direct treatment for the disease and it typically lasts for seven to ten days, according to the Canadian Paediatrics Society (CPS). CPS recommends treating the symptoms, such as mouth sores, with a pain reliever.
Enterovirus 71
"EV 71 is transmitted through direct contact with discharge from the nose and throat, saliva, fluid from blisters or the stools of an infected person," this Health Canada fact sheet explains.
Some HFMD outbreaks due to EV71 have been associated with severe complications including viral or "aseptic" meningitis. 
According to the CDC, severe outbreaks of HFMD are most common in Asia. "Some people, particularly young children, may have severe disease that requires hospitalization or, rarely, even causes death," according to the CDC.
Polio 
Polio is a very contagious infection that is caused by the poliovirus. 
"An estimated 11,000 people in Canada were left paralyzed by polio between 1949 and 1954," according to the CPHA.
After the introduction of the polio vaccine, Canada was certified as being free of wild poliovirus by the World Health Organization (WHO) in 1994.
According to the CDC, the US has been polio-free since 1979.
Worldwide, there were only 22 cases of polio reported in 2017 according to WHO.
Polio vaccine
"The polio vaccine in use in North America and in most countries is the killed or inactivated polio vaccine (generally known as the Salk polio vaccine or IPV), and as a killed virus vaccine, there is no chance of poliovirus/vaccine shedding," Dr. Rutty said.
The polio vaccine is free and available to all Canadians. Canada's National Advisory Committee on Immunization recommends routine childhood immunization against polio. 
Below is a screenshot of a list of all the polio vaccines approved for use in Canada: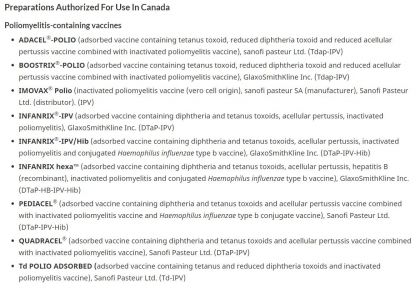 Screenshot taken on October 24, 2019 of the Canadian Immunization Guide
"All polio vaccines approved in Canada are inactivated, so each vaccine lot released in Canada undergoes strict quality control testing to demonstrate that there is no live virus (polio or any other virus such as enterovirus 71) present in the vaccine," Anna Madison, a spokesperson for CPHA told AFP by email. 
"It is not possible to develop disease from vaccines that are made with inactive or killed viruses and bacteria since the killed infectious agent cannot reproduce or multiply," Madison explained.
In the US, most health insurance plans cover the cost of vaccines. There is also a Vaccine for Children Program that can help uninsured families gain access to vaccines.
In the US, two inactivated polio vaccine products are licensed. According to the CDC, IPOL is used while POLIOVAX has been discontinued. The inactivated vaccine is also part of some combination vaccines such as Pentacel, Pediarix or Kinrix.
Vaccine safety in North America
Madison said that provincial and territorial immunization programs monitor adverse effects following immunization and report concerns to the Public Health Agency of Canada and through the Vaccine Vigilance Working Group. 
"Health Canada is not aware of any cases in which the polio vaccine has been contaminated with enterovirus 71," Madison told AFP.
This Health Canada webpage has more information on vaccine safety and side effects.
If someone in Canada is concerned that they have suffered an adverse effect, they can ask a doctor, nurse, or pharmacist to complete the Adverse Events following Immunization Form.
This CDC webpage says, "Data show that the current US vaccine supply is the safest in history."
Americans who believe they may have been injured by a vaccine can fill out a claim with the National Vaccine Injury Compensation Program (VICP) by calling 1-800-338-2382 or visiting the VICP website.