Censorship of women's sports by Iranian TV? This is likely a satirical video
Many social media users have shared a video that claims Iranian TV is censoring the women's events during the World Athletics competition in Doha. This video is very likely a satirical one created in Russia, modeled on another satirical video broadcast in 2013 by a Persian TV program. Iranian state TV covers very little female sport in images.
In English, the video was shared more than 2,800 times on Facebook, 1,800 times on Twitter and has been posted to this website since September 30, 2019. 
The caption says: "Iranian TV censorship of women's track and field competition."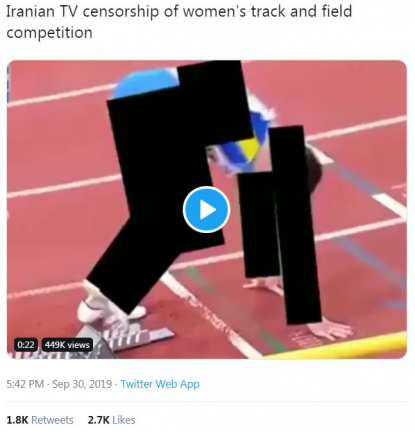 Screenshot taken on October 4, 2019 of a tweet
The video was shared thousands of times in French, for example by MP Valérie Boyer, and also by journalists from Monde, Paris Match and BFM TV, some whom have since deleted their tweets. It was also posted on a French far-right website. 
The video was also shared on Twitter in October in Spanish, generating three million views.
What does the video show?
Women run a 100m race. The images resemble those of a television broadcast, but almost all the bare skin of the athletes is covered either by an asterisk or by black bands. 
While the English posts do not make a claim that this video shows a specific sporting event, versions in other languages said it shows the World Athletics Championships currently taking place in Doha or the 2016 Olympics Games in Rio. However, at around 18 seconds, the logo of the Paris city hall is visible on a billboard in the background, making it clear that this video is not from those competitions.
The Twitter account Fake Investigation found the original race: it took place in Paris on July 6, 2013 during a Diamond League meet. This is unofficial video of the event.
A video likely from Russia
Using the "video keyframes" feature of the InVID tool, co-developed by AFP, we were able to segment the video into still images that can be used in search engines to determine if a video has already been published online.
By choosing to see more thumbnails, we came across this one, highlighted in red.
Screenshot taken on October 3, 2019 of the InVID application
When the image is searched using Google's reverse image search feature, it is found in a video posted on YouTube on March 14, 2016.
Screenshot taken on October 3, 2019 of a Google search
It was published on the page "Laboratory Interesting Facts" (LIF) which claims to be serious, describing its content as "a chain of interesting facts about everything in the world."
Nevertheless, the word "laboratory" may suggest that this chain creates its facts rather than relaying them from other sources.
The YouTube caption that accompanies the video, translated from Cyrillic, says: "Female competitions broadcast on Arab channels," which contradicts the versions currently circulating with the claim that the broadcast was on Iranian TV.
The YouTube channel had not responded to our questions about the video at the time of publication.
After multiple searches on Google, Twitter, Facebook and YouTube, everything suggests that this is the first manipulated video of the race.
Here's why:
This is the oldest version of the video we found on the Internet.
The video is good quality (compared to those currently circulating on Twitter), which is often a sign of original content, or minimal alterations from the original.
In the video, we can see a Cyrillic logo for NTV Sport, a former Russian TV channel dedicated to sports.
Screenshot taken on October 3, 2019 of YouTube
4.    The version of the video on the LIF channel is one of the rare examples of this video in 4.3 format, and not in square format, like the recent versions on Twitter. It is possible that these latest versions were intentionally reduced to the square format so that the Cyrillic logo is no longer visible, making it harder to find the origin of the footage.
5.    Finally, one user commented with doubts about the veracity of the video, saying, "It seems strange, I doubt its authenticity. Where does the video come from? Can you give evidence?," and LIF responded, "You're right, it's fantasy :)"
Screenshot taken on October 3, 2019 of comments between a user and the LIF YouTube page
What inspired this video?
For many years, there has been an idea that Iran will censor retransmissions of female sports competitions by adding asterisks or black bands to the images. 
A second video circulated in multiple Facebook posts during the 2016 Rio Olympic Games, and it has been viewed more than 149,000 times from this English post from January 2018. We cannot formally link the two videos, but they have strong similarities.
Here it is published in 2013 on YouTube: 
The captions either state that the video was censored by Iranian television or by Saudi television.
By simply watching the video, its satirical character is obvious. When an athlete performs a high jump, the black band supposed to cover it struggles to follow its course, producing a ridiculous effect (around 22 seconds).
Several fact-checking organizations have also found that this video is not from Iran. Our American colleagues at Snopes reported that it originated from a satirical program in Farsi called "Parazit."
It is actually from another satirical program, "OnTen," which was broadcast after "Parazit" ended on the Farsi Voice of America channel, produced in New York.
The video has a yellow logo in the bottom left, which appears a second before the final frame. By taking a screenshot of this logo and performing a reverse image search, we found this satirical show. 
These images appeared twice.
- In an episode aired on July 12, 2013. 
- In an episode aired on August 23, 2013.
Contacted via Twitter on October 3, 2019, OnTen TV producer Saman Arbabi told AFP, "My show was a comedy show and the segment I made was to make fun of the Iranian government for not broadcasting women's sports. This segment was a 'suggestion' for those who censor TV shows including women's sports. It was a joke."
What do the creators of OnTen say about the video circulating today?
Arbabi told AFP that the track and field video currently circulating which features the 2013 athletics race is not his.
"They obviously copied our video," he said.
How is female sport broadcast on Iranian TV?
In general, state television (there is no other TV in Iran) covers very little female sport with images. 
An international women's 100m, which does not meet Islamic standards for women's dress, will simply not be broadcast, nor will virtually any athletics or women's swimming competitions or women's tennis tournaments. 
Generally speaking, when covering international women's sports, television merely gives the results of any Iranian women competitors who succeed. They may eventually broadcast photos of athletes with medals, even pictures taken during the competition, provided that the teams or competitors are dressed in an "appropriate" outfit, which is rare in international meets.
Here is an example of coverage from the official IRNA agency showing the accepted dress code, in this case for futsal.
Screenshot taken on October 3, 2019 of a article posted by the official Irna agency
Alternatively, Iranian TV does show video sequences of combat sports, in which Iranian women regularly compete, such as taekwondo, judo or karate, since the competitors are generally covered by a judogi or gi and sometimes even a helmet.
In this case, if there is an Iranian woman competing against a woman from a country who does not wear the veil, it is not treated as a problem.
On the political front, EU High Representative for Foreign Affairs Federica Mogherini, German Chancellor Angela Merkel and past British Prime Minister Theresa May appeared regularly on Iranian TV without censorship despite not covering their hair.
On the other hand, the top of Mogherini's body was sometimes blurred on certain channels depending on the neckline of her top, but not on Press TV, the English-language news channel.
In Saudi Arabia, Saudi television broadcasts women's competitions, but only when athletes are dressed in modest Islamic dress.
This article was translated from French by Marisha Goldhamer.