Bogus doctor's advice on avoiding "sudden death at night" shared in identical posts online
Posts claiming to share urgent doctor's advice to stay in bed for three and a half minutes before getting up to avoid sudden death have been shared thousands of times on Facebook. The text, repeated word for word in each post, claims that suddenly rising from bed can provoke heart failure and anaemia of the brain. AFP spoke to a cardiologist in Nairobi who dismissed the claim as untrue with no scientific basis.
One of the posts (archived here) was shared 32,000 times on a health and wellness Facebook Page with over 24,000 followers and attracted more than 12,000 comments and reactions.
The post titled: 'AVOID SUDDEN DEATH AT NIGHT, DOCTOR GIVES ADVICE' shared three steps that it claimed should be followed immediately on waking before getting up.
"It is advisable to practice the three minutes and a half, which are:
1. When you wake up, stay in bed for a minute and a half.
2. Sit on the bed during the next half-minute;
3. Lower your legs and sit on the edge of the bed for half a minute.
After three and a half minutes, your brain will no longer be anaemic and your heart will not be weakened, which will reduce the risk of falling and sudden death," read the misleading post, also encouraging people to share the advice with family and friends.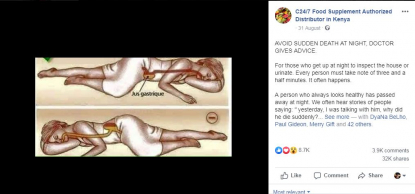 Screenshot taken on October 16, 2019 of Facebook post claiming to share doctor's advice on avoiding "sudden death at night"
The same post appeared on this Facebook Page with more than 350, 000 followers, on this Health Educator Facebook Page as well as this Facebook Page with more than 200,000 followers.
Among the many comments, online users seemed to appreciate the 'doctor's advice' with many describing it as 'good advice'.
Does this have any medical basis?
AFP contacted a cardiologist in Nairobi, Dr Bernard Gitura, who said: "The post is erroneous and has no evidence in science".
"The heart cannot become weakened or the supply of blood in the brain cut short simply from waking up suddenly. This is because the body has a complex mechanism which it uses to regulate blood pressure and flow when one is rising from a sleeping position," Gitura said.
Gitura said that these regulations happen within seconds and "for a person to talk about three minutes that is a very long time as our bodies do not take that long to autoregulate."
Gitura said that while some of the medical conditions in the claim do exist for people who are seriously ill, the publisher of the claim was making simplistic conclusions.
"People in a diseased state can get into severe hypotension and suffer anaemia of the brain. In a situation where the pressures are very low, it is true the brain can suffer from lack of blood, but rising from a sitting position that cannot make the brain lose blood," he said.
Is the ECG Pattern affected?
An electrocardiogram is a test that measures the electrical activity of the heartbeat. Dr Gitura dismissed claims in the Facebook posts that the ECG pattern changes when one wakes up and moves out of bed abruptly.
"ECG detects abnormal rhythms but the pattern does not change when we wake up suddenly," he said.