Authorities reject rumours that Sri Lankan influencer Piumi Hansamali did not complete two-week quarantine
Multiple Facebook posts shared a video clip featuring a Sri Lankan social media influencer who was forced to quarantine after breaking Covid-19 restrictions. The video claims lifestyle and beauty vlogger Piumi Hansamali broke her mandatory two-week quarantine and went home. The claim is misleading: authorities told AFP she completed the quarantine; the video clip is from an Instagram Live broadcast at least four years ago.
The video featuring Sri Lankan social media influencer Piumi Hansamali was shared in this Facebook post published on June 9, 2021. It has since been viewed more than 400,000 times. 
"Piumi Hansamali is live now | I came home, are you guys happy for me?" the Sinhala-language caption reads.
The video shows Hansamali, who has 1.7 million Instagram followers, talking to the camera promoting an upcoming beauty pageant.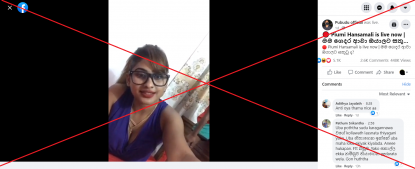 Screenshot of the Facebook post captured on June 10, 2021
The influencer was arrested on May 31, 2021 for violating quarantine laws, after hosting a birthday party at a hotel in the Sri Lankan capital Colombo. The arrest stirred controversy when she and another individual arrested were granted bail, without being placed under mandatory quarantine, according to local media outlet News First. 
Following public outcry, she and fourteen others who violated quarantine laws were placed under mandatory quarantine for 14 days on June 1, 2021 at a quarantine centre located in Passara, Sri Lanka.
Sri Lanka is facing a surge of Covid-19 infections and strict travel restrictions have been imposed to control the spread of the disease. 
Meanwhile, the same video was shared via multiple Facebook posts with the same claim as seen here, here and here. 
The claims, however, are misleading.
The provincial authorities managing the Passara quarantine centre where Hansamali stayed told AFP on June 17, 2021 that she completed her two-week quarantine, which ended on June 16, 2021. 
"The group including the said individual completed their quarantine and were released on June 16 after being cleared via exit PCR tests as well," the official said. 
Contacted by AFP on June 10, Hansamali said she was still in quarantine, and that the video circulating online was from a few years ago. 
"It is an old video from a few years ago. If anyone listens to its content, they will realise it's not from this year," she said.
Meanwhile, a keyword search led to this video on YouTube titled "live piumi hansamali live seen" published on August 2, 2018 that features the identical video. 
The video features a live broadcast posted by Hansamali the previous year.
At the 1:13 - 1:34 timestamp of the video, she talks about a beauty pageant, Ceylon Majestic Pageant due to be "held on the 18th at the Suriya hotel in Waikkal". 
AFP ran a keyword search and found a Facebook event for the Ceylon Majestic Pageant on February 18, 2017 at the same hotel.