This 2017 video shows a chemical reaction in a Ghana river
A widely shared video viewed tens of thousands of times across different Facebook posts claims to show a river in Africa where the water recently turned into blood. The claim is false; the 2017 video shows the reaction of a river polluted by chemicals.
"River in Congo passing through Rwanda turned into blood today.... Jesus is coming soon.... let us repent from our inequities," reads the caption on a Facebook post shared more than 1,800 times since it was published on March 29, 2020. We've archived the post here.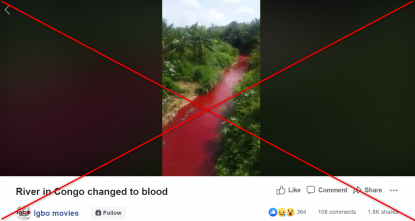 Screenshot of the misleading Facebook post, taken on May 7, 2020
The amateur video filmed from a bridge shows people gathered to watch a river whose water has turned blood red.
Similar claims have been made on Facebook here, here and here.
The video was also published on YouTube, racking up tens of thousands of views across different videos archived here, here and here.
AFP ran a Google reverse image search and found that the video was originally published in October 2017. The search also revealed that the footage was not shot in Congo but in Koforidua, Ghana.
Various Ghanaian news outlets including Modern Ghana reported that the incident happened on October 7, 2017. 
Ghanaian authorities told Ghanaian media that the incident "had nothing to do with miracles but rather a criminal offence".
Police said a tie-and-dye powder had been poured into the river by a manufacturer at a nearby factory.