This video was uploaded to an Indian wrestling-themed YouTube channel in June 2019
A video purports to show a police officer being beaten has been viewed tens of thousands of times on Facebook and Twitter alongside a claim that the assault at a temple in India was sparked by the officer's attempt to enforce a nationwide novel coronavirus lockdown. The claim is false; the footage was taken from a video of a staged fight that was uploaded to a wrestling-themed YouTube channel in June 2019.
The 18-second clip was published on Facebook here on April 2, 2020. The video has been viewed more than 7,000 times.
Below is a screenshot of the misleading Facebook post: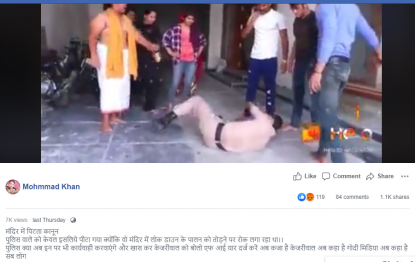 Screenshot of misleading Facebook post
The post's Hindi caption translates to English as: "The law is being thrashed inside a temple. The policeman was assaulted only because he was enforcing lockdown inside a temple. Will the police take action against them as well? Where is Kejriwal now, he should lodge an FIR at least. Where is the media, where is everyone now?" 
Kejriwal refers to Delhi's chief minister Arvind Kejriwal.
The video was also shared alongside a similar claim on Facebook here, here, here and here and on Twitter here, here, here and here.
India has been under lockdown since Prime Minister Narendra Modi announced nationwide restrictions on March 24, 2020, in a bid to curb the spread of the novel coronavirus, AFP reported here. 
However, the claim made alongside the video is false.
A reverse image search on Google using keyframes extracted with InVID-WeVerify, a video verification tool, found a longer version of the video published here on a YouTube channel named CWE, or Continental Wrestling Entertainment, on June 18, 2019, months before the novel coronavirus outbreak. 
The clip in the misleading Facebook post starts at the one-minute 51-second mark of the YouTube video.
"Singham dubey interrupt shastri while doing puja," the caption of the YouTube video reads. 
Below is a screenshot comparison of the video in the misleading Facebook post (L) and the YouTube video (R):
Image comparing screenshots
According to CWE's website, it was founded in January 2015 as the "first professional wrestling school in India" by Indian-born wrestler Dalip Singh Rana aka "The Great Khali". 
CWE confirmed that the video in the misleading posts was staged and produced in Jalandhar, a city in the northern Indian state of Punjab. 
"This video was posted a year ago on our YouTube channel. It is a staged fight and the video was shot in Jalandhar only for entertainment purposes," one of the academy members told AFP by phone on April 7, 2020.
The two characters mentioned in the video's caption -- Singham Dubey and Shastri -- can also be seen in several other videos on CWE's YouTube channel. 
Below is a screenshot of those mentions on the channel: 
Screenshot of YouTube channel