This video shows a transmission tower with 3G and 4G antenna in Italy
A video has been viewed more than 100,000 times in multiple Facebook posts that claim to show a 5G mast burning in the Italian city of La Spezia. The claim is misleading; the video in fact shows a transmission tower in La Spezia with only 3G and 4G antenna; as of May 13, 2020, 5G has not been rolled out in the northwestern Italian city. 
The video has been viewed more than 140,000 times in this Facebook post published on May 7, 2020.
It has been shared more than 8,000 times, including here to an Australia-based Facebook group with more than 45,000 members. 
The two-minute three-second footage shows a tall structure burning next to two flags and a building. Firefighters can be seen and a male voice can be heard reporting in Italian, saying he can see a telecommunications tower and a boat on fire.
The Dutch-language caption claims that the video shows a 5G tower that was set on fire by Italians "out of anger" in La Spezia, a port city in northwest Italy, in April 2020. 
A screenshot taken on May 13, 2020, of the misleading Facebook post by Tzefanya Leta
Also in April, the video was shared alongside similar claims in Italian, German and Polish. Some of those posts states the fire was linked to online claims that 5G has caused the novel coronavirus pandemic. 
However, the claims are misleading. 
A keyword search on Google found this April 6 statement from La Spezia fire brigade, which said it intervened in "a fire that involved a metal lattice for telecommunications and a boat located in adjacent storage".
Screenshot taken from the website of La Spezia's fire brigade on May 13, 2020
This April 7 report from local newspaper Citta della Spezia dismissed claims that the blaze was related to "actions against 5G" and added that the most likely cause of the fire was a short circuit, citing authorities.
The transmission tower
According to nPerf, a platform that maps the locations of telecommunications transmitters, the tower that caught fire belonged to the Italian telecom operator Wind Tre. The tower is marked by a red arrow in the screenshot below: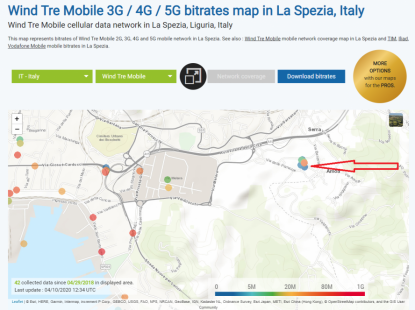 Screenshot of the nperf.com application from April 15, 2020.
The tower's exact location can be seen on Google Street View here.
Below is a screenshot comparison of the video in the misleading post (L) and Google Street View imagery (R) with corresponding elements circled in red by AFP: 
Screenshots from YouTube (left), from Google Maps (right) from April 15, 2020.
A spokesperson for Wind Tre confirmed it operated the telecommunications tower, which carried 3G and 4G antenna.  
"The technologies installed on the antenna are UMTS (3G) and LTE (4G) and provide voice and data services," a Wind Tre representative wrote in an email to AFP on April 14. Wind Tre also said it had not installed any 5G transmitters in La Spezia.
OOKLA 5G Map, which maps global 5G networks, also shows 5G has not been rolled out in La Spezia as of May 13, 2020. 
Screenshot of the OOKLA G5 Map taken on May 13, 2020.