This video shows a Philippine senator celebrating her birthday in 2015, not at a prison party in 2020
A video has been viewed tens of thousands of times in multiple Facebook, YouTube and Twitter posts that claim it shows jailed Philippine Senator Leila De Lima attending a party in prison in 2020. The claim is false; the video has circulated online since 2015 in reports about a birthday party that was held for De Lima, 18 months before she was detained on drug trafficking charges.
The 18-second footage show De Lima signing at a party. It has been viewed more than 25,000 times and shared more than 960 times after it was posted on Facebook here on September 30, 2020.
The post's caption reads: "Former DOJ Sec De Lima with her friends and Herbert Colanggo @ Ampang inside Bilibid."
A text overlay on the video reads: "Sen Leila De Lima / September 29, 2020".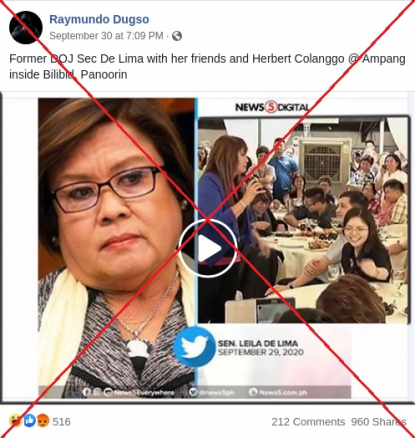 A screenshot of the misleading post, taken on October 13, 2020
De Lima, who formerly served as secretary of the Philippine Department of Justice, was imprisoned in 2017. She was arrested and detained on February 24, 2017 on drug trafficking charges after turning herself in at the Philippine Senate.
Herbert Colanggo is a major Philippine crime figure who was jailed in the Bilibid prison during a 2014 raid that revealed inmates were living in luxury, as AFP reported here. 
The same video was also shared alongside a similar claim here and here on Facebook; here on YouTube; and here on Twitter.
The claim is false.
Keyword searches found the footage corresponds to the 38-second to 55-second mark of this video published on the YouTube channel for Philippine broadcaster ABS-CBN on August 27, 2015. It was published almost 18 months before De Lima was detained.  
The video was posted by local news organisation ABS-CBN and is captioned: "(Original Filipino music) icon Imelda Papin on Thursday challenged Justice Secretary Leila de Lima to sing a few lines from her song 'Bakit' during the latter's 56th birthday celebration. De Lima then gamely belted out the chorus of Papin's song."
Below is a screenshot comparison of the video in the misleading posts (L) and the longer ABS-CBN video (R):
Screenshot comparison
The footage also circulated in 2016 alongside a false claim that one of the individuals in the video is Colanggo.
Multiple Philippine news organisations, for example ABS-CBN here and Inquirer here, reported on the video in 2016 with the correct context, specifically noting that it shows a member of Congress -- not Colanggo.
The Philippine Senate also denied that the viral footage shows De Lima with Colanggo in this statement released on July 17, 2016.