This video shows members of a Myanmar ethnic rebel group before the 2021 military coup
A video has been viewed tens of thousands of times in Facebook posts claiming it shows young Myanmar protesters joining a combat exercise with an ethnic rebel group in May 2021. The posts circulated online as anti-coup protesters reportedly joined rebel groups to fight the junta. The claim is false; the video has circulated online since at least May 2020 in posts about a Myanmar ethnic rebel group training in 2017.
The video was published on Facebook here on May 10, 2021. It has been viewed more than 180,000 times.
The post's Burmese-language caption reads: "Opening ceremony of batch 2 army training of Gen-Z. As the first batch has graduated, the second batch training started".
The screenshot of the misleading post, taken on May 12, 2021
"Gen-Z", meaning "Generation Z", is a reference to young Myanmar activists reportedly joining ethnic armed groups to fight the military junta that seized power in February.
More than 770 civilians have been killed in the junta's crackdown on protests, AFP reported here on May 10, 2021.
The video was also published here on Facebook alongside a similar claim.
However, the claim is false.
A keyword search on Google found a longer version of the video shared here on YouTube on May 28, 2020.
The video's caption reads "KNLA Training (September 29, 2017)", suggesting it shows military training of ethnic rebel group, the Karen National Liberation Army (KNLA), in September 2017.
The video was uploaded to a channel associated with the Karen National Union (KNU), one of the largest armed ethnic groups in Myanmar. The KNLA is the armed wing of the KNU.
Below are screenshot comparisons of the video in the misleading posts (L) and the KNU Channel's video (R):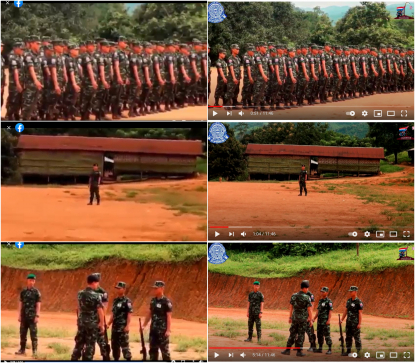 Screenshot comparisons of the video in the misleading posts (L) and the KNU Channel's video (R)
In the clip, KNLA troops are shown standing on a training ground. The group's leader can be heard talking about the training exercise. 
In the video shared in the misleading posts, parts of the officers' conversations with the soldiers were removed.
Padoh Saw Taw Nee, head of the KNU's foreign affairs department, told AFP that the original video was officially published by the KNU.
"This is military officer training in 2017 posted by "Thoolei News" Department of Information, KNU", he said.