This video shows a flyover performance by the Italian Air Force on Republic Day in Rome
A video has been viewed thousands of times in multiple Facebook and Twitter posts alongside a claim it shows a farewell performance in France for Dassault Rafale fighter jets that were sent to the Indian Air Force in July 2020. The claim is false; the video shows a performance by the Italian Air Force to mark Republic Day in the Italian capital of Rome.
The 18-second video was published on Facebook here on August 18, 2020.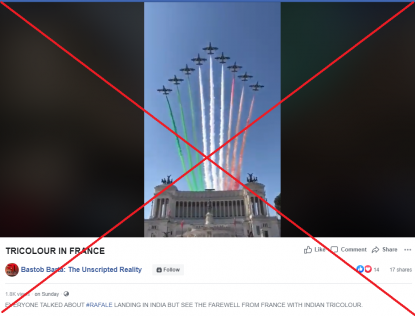 Screenshot of misleading Facebook post
The post's caption reads: "Everyone talked about #Rafale landing in India but see the farewell from France with Indian tricolour."
The post circulated days after several French-made Dassault Rafale fighter jets arrived in India as part of a major contract with the Indian Air Force (IAF). The IAF published photos of their arrival here. 
The video was also shared alongside an identical same claim on Facebook here, here, here and here and on Twitter and here, here, here and here.
The claim, however, is false.
A reverse image search of keyframes extracted from the video found it shows the Altare della Patria, an Italian national monument in Rome. 
The tricolour smoke trail -- which creates the green, white and red Italian flag -- over the Altare della Patria is an annual performance by the Italian Air Force during the country's Republic Day on June 2.
The Italian Air Force published photos and videos of the flyover here in 2018; here in 2019; and here in 2020.
#2giugno #FestaDellaRepubblica le @FrecceTricolori suggellano momento della deposizione della corona alloro al Milite Ignoto da parte Presidente Repubblica Sergio #Mattarella. Presenti Ministro Difesa Trenta e #CapoSMD Gen. Vecciarelli @MinisteroDifesa @Quirinale @SM_Difesa pic.twitter.com/PZcK5CKnGq

— Aeronautica Militare (@ItalianAirForce) June 2, 2019
Below is a screenshot comparison of the video in the misleading posts (L) and the Italian Air Force footage of the 2019 tricolour flyover (R):
Image comparing screenshot