This video shows Dr. Anthony Fauci emphasising the importance of clinical trials for a COVID-19 vaccine
A video has been viewed tens of thousands of times in multiple posts on YouTube, Facebook and Twitter which claim it shows US infectious disease expert Dr. Anthony Fauci admitting vaccines are "toxic" and can "make you worse" during a press conference about the novel coronavirus. The claim is misleading; in the video, Fauci explains the importance of clinical trials to ensure potential vaccines against COVID-19 are effective. AFP has previously debunked multiple claims that vaccines are harmful.
The 48-second video was shared in this Facebook post published by a Philippines-based user on May 30. It has been shared more than 700 times.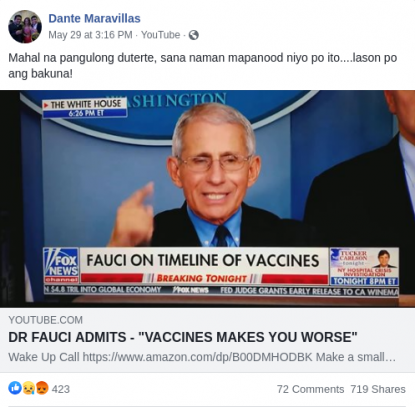 A screenshot of the misleading post by Facebook user Dante Maravillas taken on June 15, 2020
The post's Tagalog-language caption, addressed to Philippine President Rodrigo Duterte, states: "Dear president duterte, hope you can watch this.... vaccines are poison!"
The Facebook post shares a YouTube video, which is titled "DR FAUCI ADMITS - 'VACCINES MAKES YOU WORSE'". 
The YouTube video has been viewed more than 58,000 times.
Dr. Anthony Fauci is the director of the US National Institute of Allergy and Infectious Diseases (NIAID). He oversees research on various infectious and emerging diseases.
The video has also been shared tens of thousands of times here on YouTube; here, here and here on Facebook; and here and here on Twitter alongside a similar claim. 
The misleading claim was shared online in May 2020, when clinical trials for vaccines against COVID-19 were still underway, AFP reported here. 
The video has been shared in a misleading context.
Keyword searches on Google found the video in the misleading posts corresponds with this longer video, posted on March 26, 2020 on the YouTube channel of US broadcaster Fox News. The video is identical to the section between the 57-minute 45-second and the 58-minute 33-second mark of the Fox News video.
In the video, Fauci does not say vaccines are toxic or that they can make people worse as the misleading posts allege; rather, he talks about stepping up the production of COVID-19 vaccine and making sure they meet safety requirements through clinical trials.
From the Fox News video's 57-minute six-second mark, Fauci says: "One of the things that we are going to do that you need to understand that has been a stumbling block for previous development of vaccines, and that is, even before you know something works, at risk you have to start producing it… we're working with a variety of companies to take that risk."
From the video's 58-minute seven-second mark, he says: "There are diseases in which you vaccinate someone, they get infected with what you're trying to protect them with and you actually enhance the infection. You can get a good feel for that in animal models. So that's going to be interspersed at the same time that we're testing, we're going to try and make sure we don't have enhancement. It's the worst possible thing you can do is vaccinate somebody to prevent infection and actually make them worse."
The World Health Organization (WHO) states in its Q&A on vaccines: "Like any medicine, vaccines can cause mild side effects, such as a low-grade fever, or pain or redness at the injection site. Mild reactions go away within a few days on their own. Severe or long-lasting side effects are extremely rare. Vaccines are continually monitored for safety, to detect rare adverse events… Remember, you are far more likely to be seriously injured by a vaccine-preventable disease than by a vaccine." 
Similar claims that vaccines contain toxic chemicals, or are harmful to health, also circulated online during the COVID-19 pandemic and were previously debunked by AFP here, here and here.