This video shows Amitabh Bachchan praising healthcare workers two months before he tested positive for COVID-19
A video has been viewed hundreds of thousands of times in multiple Facebook, YouTube and Twitter posts alongside a claim it shows Bollywood actor Amitabh Bachchan expressing gratitude to healthcare workers at a Mumbai hospital in July 2020 after he was hospitalised for COVID-19. The claim is misleading; Bachchan recorded the video in April 2020, more than two months before he tested positive for COVID-19.
The video was shared on Facebook here on July 12, 2020. It has been viewed more than 727,000 times.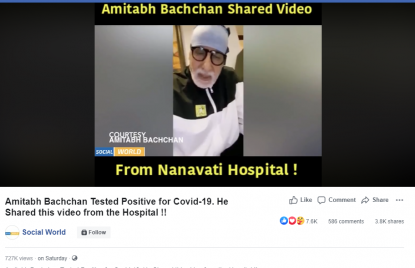 Screenshot of misleading Facebook post
The post's caption reads: "Amitabh Bachchan Tested Positive for Covid-19. He Shared this video from the Hospital !!"
The video also features superimposed text that reads: "Amitabh Bachchan Shared Video From Nanavati Hospital!"
Bachchan and members of his family tested positive of COVID-19 on July 11, 2020, AFP reported here. The actor was admitted to Nanavati Hospital, a major hospital in Mumbai.
The video was also shared alongside a similar claim here, here, here and here on Facebook; and here, here and here on YouTube; and here on Twitter.
The claim, however, is misleading.
A keyword search found Nanavati Hospital issued a statement on July 12, 2020, clarifying that Bachchan's video was "created in April 2020 to motivate the frontline nurses, doctors and staff working in COVID wards."
A screenshot of the statement tweeted by Nanavati Super Speciality Hospital
The video was also published online elsewhere in April 2020 -- for example on Twitter here by a Mumbai-based journalist and on YouTube here by a regional news outlet.
"@SrBachchan inspiring message to all the doctors and nurses who are working tirelessly and fearlessly to save lives," reads the tweet.