Video does not show Hurricane Hanna toppling US border wall
A video claiming to show strong winds from Hurricane Hanna knocking over part of the border wall between the United States and Mexico has been viewed hundreds of thousands of times on social media in English and Spanish. But the claim is false; US authorities said that the incident dates from before the storm.
"Hurricane Hanna knocks down Trump's wall in Texas," reads the caption of a July 26, 2020 Facebook video viewed nearly 800,000 times, referring to the storm that hit southeast Texas at the end of July.
Screenshot of a video on Facebook with a false caption, taken on July 29, 2020
More examples are available here and here and in Spanish here and here. Some posts in Spanish specify that the incident took place in the Rio Grande Valley region of southeast Texas.
Building a wall on the 2,000-mile Mexican border was one of President Donald Trump's top government priorities as part of a crackdown on illegal immigration.
When the US Congress failed to allocate enough money for the highly controversial project, Trump declared a national emergency and reallocated funds from the Pentagon. But little more than 200 miles of mostly replacement barriers have been erected.
US Customs and Border Protection (CBP) released a statement on July 27 that said it "is not aware of any border wall panels falling over due to Hurricane Hanna hitting the Rio Grande Valley Sector this past weekend."
The video appears to be from June 2020, CBP said, "when high winds caused several border wall panels that were pending additional anchoring to fall over at a construction site near Deming, New Mexico."
The project is funded by the Department of Defense, and "questions regarding the incident should be directed to the US Army Corps of Engineers," it added.
The Corps of Engineers confirmed the information via email: "The video was taken 5 June near Deming, NM, following a high-wind event and is completely unrelated to Hurricane Hanna." 
Hanna, the first Atlantic hurricane of 2020, slammed into the coast of Texas on July 25, bringing heavy rain, storm surge and flash flooding.
The Category 1 storm packed winds of around 90 miles per hour as it roared ashore at Padre Island at 5:00 pm (2200 GMT), the US National Hurricane Center said.
Hanna was downgraded to a tropical depression on July 26, the least severe categorization on the National Hurricane Center website.
According to the agency, Hanna's trajectory crossed southeast Texas hundreds of miles away from the border zone in Deming, New Mexico, where the video was filmed.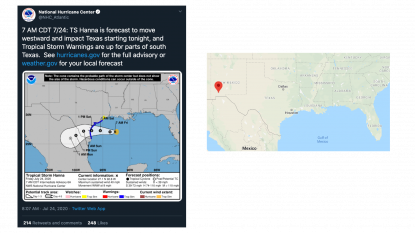 Screenshots taken on July 30, 2020 show a National Hurricane Center tweet mapping the path of Tropical Storm Hanna and the location of Deming, New Mexico on Google Maps
The storm tracker showed Hanna moving inland through northern Mexico as of July 27.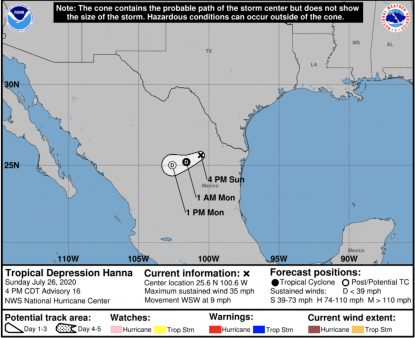 Screenshot of the National Hurricane Center's map of Hanna's storm center taken on July 30, 2020
This is not the first time part of the wall has been damaged by severe weather; in January 2020, newly-installed panels from the US border wall in Calexico, California, fell over in high winds, landing on trees on the Mexican side of the border.