These two pictures do not show the same rainforest ten years apart
A post shared more than 200 thousand times on Facebook as part of the 'ten year challenge' suggests that a rainforest has been razed to the ground ten years on. While deforestation is a major concern in Malaysia, where the picture was taken, the visual comparison is misleading as the two images are from a single photo.
The 'ten-year challenge' encourages social media users to juxtapose two pictures taken 10 years apart to show changes that have taken place. However, the comparison on the January 16, 2019 post, captioned #10yearchallenge, is misleading.
(Screenshot of Facebook post purporting to show deforestation that occurred in a rainforest within a span of 10 years)
The post was shared by the World Wildlife Fund (WWF) - Pakistan on its multiple social media platforms with hundreds of thousands followers.
The same post was also shared on this page with more than 750,000 followers, attracting thousands of comments and reactions.
Some comments pointed out that the image did not represent what was suggested in the dates.
A reverse search on Google and Yandex search engines found the original image on Shutterstock images, attributed to photographer Richard Carey.
Three distinct features in the collage shared by WWF and circled in red below proved that it was the same photo captured by Carey.
Screenshot of the rainforest uploaded online by WWF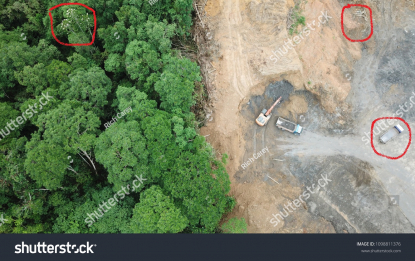 Screenshot of the image as captured by photographer Richard Carey
Carey told AFP he took the picture in May 2018 near Kuching city in Malaysia. He said that the image was of a section of the forest being cleared last year to make room for a palm oil factory.
"Deforestation is certainly a big problem there, a lot of the rainforest has been destroyed in recent years, but that particular photo doesn't show that," Carey said.
From 2001 to 2017, Malaysia is estimated to have lost 7.29 million hectares of tree cover, according to Global Forest Watch.