These photos do not show skylines under different prime ministers in Thailand -- they were taken in Singapore
A photo collage has been shared thousands of times in multiple posts on Facebook and Instagram alongside a claim it shows an accurate comparison between the skyline in Thailand under the prime ministership of Prayut Chan-O-cha and his predecessor Thaksin Shinawatra. The claim is false; both photos actually show Singapore.
The image was published here on Facebook on September 9, 2020, on an imposter account of Thai royalist group Thai Pakdee. It has been shared more than 7,400 times.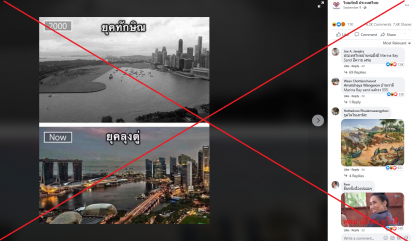 The Thai-language text overlay on the image reads: "2000: Thaksin's era. Now: Lung Tu's era"
Thaksin Shinawatra is a former prime minister of Thailand who was in office from 2001 to 2006; Lung Tu is the nickname of Thailand's current prime minister, Prayut Chan-O-cha.
The photos were also shared here on Facebook and here on Instagram alongside a similar claim.
Comments by some Thai Facebook users on the misleading post suggested they might believe the photos actually show Thailand under two government administrations.
One person wrote: "I want you to think, which one is Thaksin's, which one is Prayut's."
Another said: "But during Thaksin's time, even people who sold limes were rich, but in Prayut's era everybody is poor."
Below is a screenshot of the comments:
The claim in the posts, however, is false.
A reverse image search on Google found the same set of photos published here in an article on boredpanda, a Lithuania-based online magazine. 
The article, published on June 29, 2016, is headlined: "31 Before-And-After Pics Showing How Famous Cities Changed Over Time".
Below is a set of screenshot comparisons of the photos in the misleading post (L) and the photos in the boredpanda article (R):
The same photos were also published in this April 5, 2019 Reddit post, titled "Singapore, then and now".
Closer examination of the photos in the misleading posts revealed they show Singapore's Marina Bay. 
Marina Bay Sands, a luxury hotel resort in Singapore's Downtown Core district, can be seen in the second photo.
Below is a screenshot comparison of the the building in the second photo in the misleading posts (L) and a photo of Marina Bay Sands resort on the Singapore government website (R), with the building circled in red by AFP:
The same location can be seen here on Google Maps.