Sri Lankan health authorities said COVID-19 survivor sought shelter at a relative's home after consulting with them
A claim that a COVID-19 survivor in Sri Lanka violated an official home quarantine order has been shared widely on Facebook. The claim is misleading; multiple government health officials and the patient himself told AFP that he sought shelter at his sister's residence, as agreed with health officials, because he was locked out of his own home.
Neth News, a Sri Lankan news website, published the claim here on its Facebook page on April 11, 2020. The post has been shared more than 670 times.
The Sinhala-language article's headline translates to English as: "The first patient from Puttlam who suffered from corona but recovered and returned home found wandering all over the village, violating health instructions". 
The article reports that the man in Puttlam, a town in northwestern Sri Lanka, "failed to heed health instructions," which mandated that he remain in home isolation after he was discharged from hospital. The man's wife and children, the article adds, were also isolated at the same hospital. 
Below is a screenshot of the misleading Facebook post: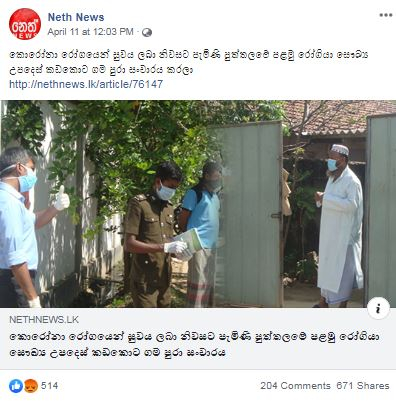 Screenshot of the Facebook post
A similar claim about the man wandering his village in violation of the quarantine order was also shared on Facebook here, here, here, here and here. 
But the claim is misleading.
The Public Health Inspector in Puttlam assigned to monitor the recovered patient refuted the claims, saying that officials had confirmed the man sought shelter at his sister's house after being locked out of his home.
The man "reached home at about 7pm to find it was locked and his family was actually at the quarantine center. So he had sought shelter at his sister's home located close by," the inspector told AFP by phone on April 13, 2020.  
The inspector added that authorities then ordered him to remain in quarantine at his sister's residence for 14 days. 
"He had not wandered the entire village and neither will he do so, as we took measures to station a police officer outside of his sister's home to keep tabs on him. We have checked on him daily since then and he has followed our instructions well," the inspector said. 
Dr. Mohamed Ali Yaseer Arafath, an epidemiologist at the neighbouring Nuwaraeliya Regional Directorate of Health Services, said the Puttlam health services told him that the patient was in contact with them and did not violate quarantine orders. 
"He had informed the officials that he is locked out and that he has no option but to seek shelter at his sister's. To this, the officials had agreed and had even dropped him at the sister's house in the ambulance," Dr. Arafath told AFP during a telephone conversation on April 13, 2020.
Dr. Arafath also published this Facebook post on April 13, 2020, rebuking the claims in the misleading posts. 
Below is a screenshot of his Facebook post: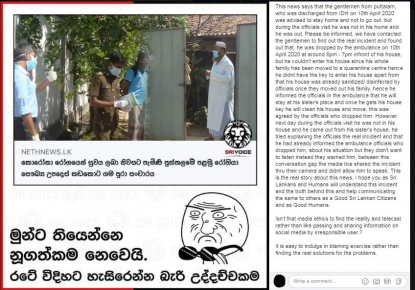 Screenshot of Dr. Arafath's Facebook post
AFP spoke to the COVID-19 survivor, who said he had adhered to quarantine regulations enforced by local authorities. 
"I never wandered the village. I was dropped here by the ambulance I came in and I intend to follow instructions set by the relevant officials," the man, whose identity is protected under Sri Lankan law on COVID-19 patients, told AFP by phone on April 13, 2020.