This photograph shows Eritrean torture victims in Egypt, not slaves in Libya
A photograph shared thousands of times on Facebook purports to show victims of "modern day slavery" in Libya. AFP spoke to the photographer who took the picture, who said it actually shows Eritreans tortured in Egypt's Sinai peninsula.
The image has been shared more than 5,000 times on Facebook since November 21 -- we've archived a few of the different posts here, here and here.
In the shocking picture, three gaunt-looking young men stand against a wall. Two of them have large wounds across their bodies.
"Modern Day Slavery. Happening right now in Libya," the captions read.
A screenshot of the misleading post on Facebook, taken on December 19, 2019
As fact-checking site Snopes reported in 2017, Nigerian politician Femi Fani-Kayode also shared the claim in a tweet which has since been deleted. At the time, a CNN investigation showing that Africans had been filmed being sold at auction in Libya was causing shock and condemnation around the world. 
Despite being wracked by conflict since the 2011 uprising that killed dictator Moamer Kadhafi, Libya has remained a major transit route for migrants, especially from sub-Saharan Africa.
According to figures from the United Nations' refugee agency UNHCR in November, more than 4,400 people are currently held in official detention centres in Libya, often in appalling conditions.
There are no figures for the number of people held in illegal centres run by human traffickers, where detainees are subject to torture in a bid to extort money from their families.
However, the picture widely shared on social media shows Eritreans who were tortured in Egypt's Sinai peninsula, not victims of "slavery" in Libya.
AFP ran a reverse image search on the photo, which led to an article on French site Les Inrockuptibles from 2015. The article, which features the picture, talks about an award-winning documentary by film-makers Cécile Allegra and Delphine Deloget about Eritreans trafficked in the Sinai peninsula.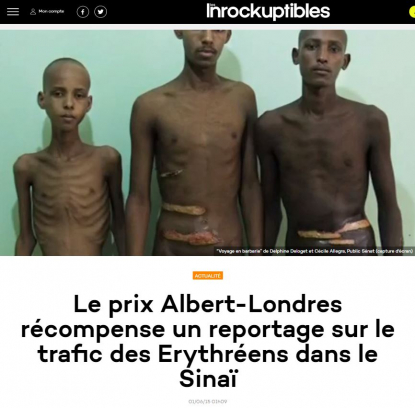 A screenshot of an article on French site Les Inrockuptibles showing the picture, taken on December 19, 2019
The documentary, "Voyage en barbarie" (here in French) tells the stories of Eritreans kidnapped from Sudanese migrant camps and taken across the border to Egypt's Sinai peninsula, where they were held and subjected to torture such as electrocution, burning and rape in a bid to extort money from their families.
Egypt's arid Sinai region became a major route for migrants slipping into Israel illegally in 2007 thanks to its then-porous border.
The influx has since halted as Egyptian forces increased monitoring of the region in the wake of activity from Islamic State group jihadists and a high-tech fence was installed on the frontier with Israel. 
In the documentary, we can clearly see a screenshot of the photograph of the three men just before the 53-minute mark, where two of them describe being rescued from their captors by locals.
"I realised we were free when they took our chains off. They helped us get up. I was so thin they had to carry me to the car," said the young man pictured on the left.
A screenshot of the photograph, taken on December 19, 2019
A screenshot of the film 'Voyage en barbarie' featuring one of the men in the photo, taken on December 19, 2019
Contacted by AFP, Cécile Allegra, one of the film-makers who made the documentary, said the photo featured two of the men who took part in her film.
"The use of this photo is obviously problematic, because it's nothing to do with Libya, but the Sinai," she said via telephone.
She said that one of the men pictured was now living in Egypt, while the other two had been brought to France "thanks to an exceptional mobilisation". She did not give their names, in order to protect their identities.
Allegra said the photo was taken by French journalist Baptiste de Cazenove, who later confirmed this to AFP. He sent us an article he wrote for Libération newspaper in 2014, "Sinai: the desert of torture". The online version of the article does not feature the image, but it appears in the print version, which de Cazenove sent us by email. 
The article credits both the text and photographs to de Cazenove.
A screenshot of an article in Liberation newspaper, showing the photograph in its original context
"The photograph was taken in Cairo in June 2013 in an apartment in Ard el-Lewa, a working-class district where lots of refugees live," he told AFP by phone.
"The men are Eritreans who were kidnapped in Sudan and forcibly taken to the Sinai, where they were tortured and detained," he said.
The men told him they were "hung from the ceiling" and "burned with a hot iron or with melted plastic".
Around a dozen torture survivors were staying in the apartment in Cairo, where they received medical treatment from aid workers, de Cazenove said.
Rights groups say that tightened monitoring and border controls in the Sinai region have led to a drop in human trafficking rates there. 
"Sinai is no longer a major migration route since 2014, following increased monitoring by Egypt security forces as a result of growing terrorist organizations/activity in the Sinai Peninsula, and closure of the Israeli border to migrants," Fisseha Tekle, Amnesty International's researcher for Ethiopia and Eritrea, told us by email.