Photo of Myanmar workers from Covid-shuttered factory misrepresented as 'illegal' Bengali migrants
A photo has been shared in multiple posts on Facebook alongside a claim that it shows "illegal Bengalis" being arrested in Myanmar in September 2020. However, the claim is false: the photo in fact shows Myanmar workers who were mistakenly stopped by police after leaving a baked goods factory that was closed in March 2020 because of the coronavirus pandemic.
The photo was published on Facebook here on September 7, 2020, where it has been shared more than 4,000 times.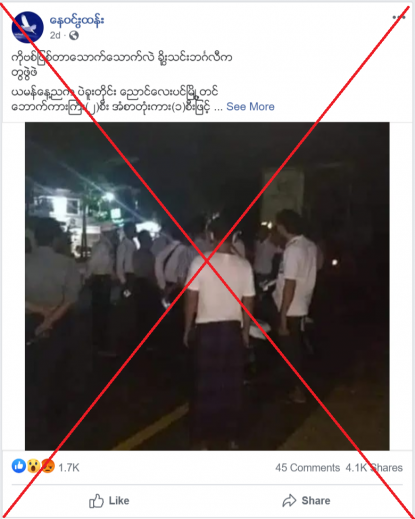 Screenshot of the misleading post, taken on September 9, 2020
The post's caption says: "Last night, 200 illegal Bengalis from Bangladesh were arrested in two vans and a lorry in Nyaunglebin in Bago Division, an official said. Interrogation was difficult because none of the illegal migrants spoke Burmese."
Nyaunglebin is a town in Myanmar's Bago region.
The photo was also published alongside similar claims on Facebook here and here.
However, the claim is false.
A keyword search found that the photo was published in March 2020 here in a Facebook post about workers leaving a Shwe Kyee Bakery factory in Yangon, Myanmar's largest city.
The post reads in part: "On the night of March 31, according to reports that migrant workers from Thailand arrived in four container boats, officials, along with the township police chief and township police chief, conducted a search and seizure operation. According to the investigation, they are workers from the Shwe Kyee factory in Yangon. Because of the factory closure due to COVID-19 disease, the owner of Shwe Kyee factory used factory owned vehicles to bring factory workers back to their homes in Thea Daw, Windwin, Thazi town."
On April 3, 2020, Shwe Kyee released a statement on Facebook confirming that the men stopped by police were in fact workers from their Yangon factory.
"On March 31, 2020, while the Shwe Kyee factory (Yangon branch) was sending its workers back to their home in cities such as Thea Taw, Wundwin and Thazi, local officials stopped the ferries carrying the factory workers at the Nyaung Lay Pin check-point as someone informed them: ''Migrant workers who worked in Thailand were carrying back to Myanmar,'" the company's statement reads.
The statement added that "dishonest people are spreading hoax news intentionally by taking photos at the checkpoint and publishing them on social media alongside a caption 'over 200 illegal Bangalis' to make the people fear or panic."