The Philippines did not issue its highest alert for the Taal volcano – and this photo does not show an imminent tsunami threat
A dramatic image of a tsunami has been shared in multiple social media posts alongside a claim that the Philippines has issued an Alert Level 5 for the Taal volcano, indicating a "hazardous eruption in progress." This claim is false; the Philippine seismology institute wrote on its own Facebook page that the Taal volcano remains at Level 4, which denotes a "hazardous eruption imminent," and the image in the misleading posts is an illustration of a tsunami.
This Facebook post was published January 13, 2020, a day after the Taal volcano began emitting huge plumes of ash forcing tens of thousands living nearby to flee to safety, AFP reported here. 
Below is a screenshot of the post: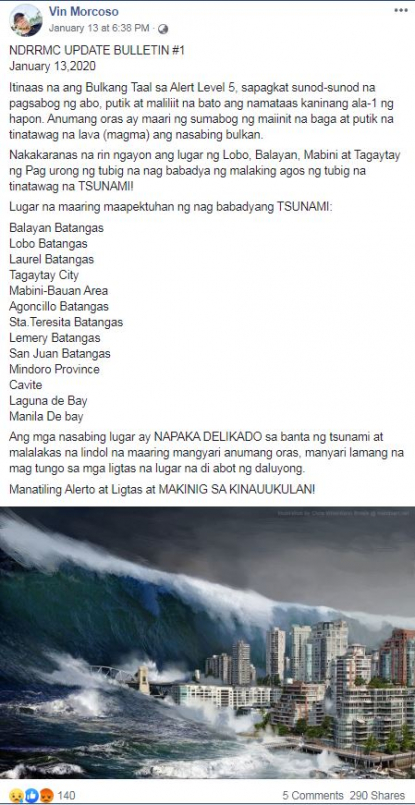 Screenshot of Facebook post
A partial translation of the Tagalog-language post reads: "NDRRMC UPDATE BULLETIN #1 / January 13, 2020 . The Taal Volcano has been raised to Alert Level 5, because of the continuous eruption of ash, mud and small rocks that was observed at 1 this afternoon. Anytime now the volcano could explode hot ember and mud which is called lava (magma). / Also right now, the areas of Lobo, Balayan, Mabini and Tagaytay are experiencing the Receding of water which bodes of a big wave of water called TSUNAMI!"
NDRRMC refers to the National Disaster Risk Reduction and Management Council, the Philippine disaster agency.
According to the Philippine Institute of Volcanology and Seismology (PHIVOLCS-DOST), an Alert Level 5 for a volcano indicates a "Hazardous Eruption in Progress," which denotes "extreme hazards to communities west of the volcano and ashfalls on downwind sectors."
Other posts that did not include the tsunami photo made similar claims about the Taal volcano, which is located on an island in the middle of a lake south of Manila. Examples can be seen here and here on Facebook, and here on Twitter. 
The claim is false; NDRRMC documents show the Taal volcano remains on Alert Level 4, and the image in the misleading Facebook post is an artistic depiction of a tsunami, unrelated to the Philippines or the Taal volcano.
"As of 12 January 2020, 7:30 PM, the alert level of Taal Volcano was raised from Alert Level 3 (magmatic unrest) to Alert Level 4 (hazardous eruption imminent)," the NDRRMC stated in a report released on January 13, 2020. "This means that hazardous explosive eruption is possible within hours to days." 
This NDRRMC update, published at 8:00 am local time on January 15, 2020, states Taal volcano remains at Alert Level 4.
Below is a screenshot of the report:
Screenshot of alert
PHIVOLCS-DOST also issued this statement on its Facebook page on January 13, 2020 refuting claims of Alert Level 5 being raised.
Below is a screenshot of the Facebook post:
Screenshot of statement
The Tagalog-language statement partly translates to English as: "READ: An ALERT LEVEL 4 is still raised in TAAL VOLCANO which could be seen in the volcano bulletin released by our agency this 8 AM, 13 January 2020. NO TRUTH to news circulating on various social media accounts about the raising of Taal Volcano to Alert Level 5.
"MAYON VOLCANO is on ALERT LEVEL 2 since March 29, 2018. NOT TRUE that its Alert Level was only raised now. "
The statement's comments on Mayon volcano refer to social media posts, such as this and this, that claim Mayon volcano had been raised to Alert Level 2 recently, stoking fears of another volcano erupting after Taal. 
The image in the Facebook post is also being used in a misleading context; a combination of a reverse image search and keyword search traced the image back to this illustration of a tsunami to MondoWorks design agency.
Below is a screenshot of the MondoWorks image, crediting the artist Chris Wren:
Screenshot of photo
Below is a screenshot comparison of the image used in the misleading Facebook post (L) and the MondoWorks image (R):
Screenshot comparison